The Earfull Episode 12 – Joseph Daley
In this episode composer, trombonist, tuba and euphonium player Joseph Daley reflects on his origins in the island of Montserrat, on his experiences as both a classical and jazz musician, and on the composition process. Listen on itunes!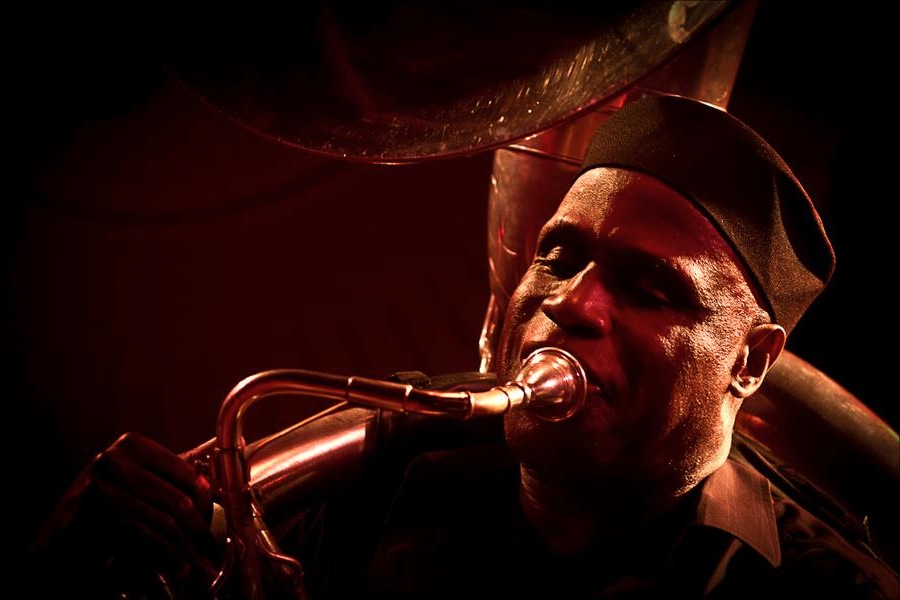 Born in New York City's Harlem, Joseph began his musical studies in elementary school and received high honors and recognition throughout his school years (including the renowned High School of Music and Art), and was a member of the most prestigious ensembles in the New York City school system. During his high school years, he began performing on the Latin music scene – well-known as one of the most powerful foundations of higher musical learning – performing alongside such fine musicians as Rene McLean, Monquito Santamaria, Andy Gonzalez, Alex Blake and many others.
A scholarship to the Manhattan School of Music resulted in his Bachelor's degree in Performance and a Master's degree in Music Education and led to a career as an educator in the New York and New Jersey school systems from 1976 until his retirement in 2005. Heavily dedicated to the education of young people to the highest values in musical understanding and expression, Joseph balanced his extensive educational commitments with recording and performing in the ensembles of some of the most provocative musicians on the contemporary jazz scene. In addition to those mentioned above, Joseph contributed heavily to groups led by other major artists including Muhal Richard Abrams, Makanda Ken McIntyre, Jason Hwang and Dave Douglas, and was an original member of Howard Johnson's groundbreaking tuba ensemble, Gravity. He has also been a longtime collaborator with the highly respected composer/ethnomusicologist and master of non-Western instruments, Bill Cole, a relationship that is still intact.
After nearly 40 years of recognition as one of the consummate sidemen on the adventurous music scene – with remarkable artists like Sam Rivers, Carla Bley, Gil Evans, Charlie Haden, Taj Mahal and so many more – Joseph Daley stunned musicians and fans alike with his brilliant CD, The Seven Deadly Sins, released in 2011. The album also received rave reviews and made several Best of 2011 lists. Featuring his Earth Tones Ensemble (a full Jazz orchestra augmented by six additional low-toned horns, and including a seven-member rhythm section and four special guests), this powerfully innovative music mines the same rich vein of musical expression as that of immortals like Charles Mingus, Duke Ellington and George Russell.
Whether performing with his large ensemble; with his evocative Ebony Brass Quintet; or in the sparer solo, duo or trio contexts; sheer musicality, deeply-hewn emotion and jubilant innovation are always at the core of Joseph's most singular musical expression. Best known for playing the tuba, Joseph also plays euphonium and valve trombone; but these days his growing reputation as a visionary composer is bringing him worldwide acclaim.
Joseph is also currently a member of the highly eclectic ensemble Hazmat Modine, under the direction of musician and visual artist Wade Schuman. It was Schuman's paintings that helped inspire the creation of Daley's Seven Deadly Sins project, which was developed at the McDowell Colony in 2001.
In addition to his Earth Tones Ensemble, Ebony Brass Quintet, duo and trio collaborations and his solo performances, Joseph's focus right now is on his next recording project, The Seven Virtues, featuring a large string ensemble. He has also designed an extensive series of educational projects for the university level and will be embarking on a series of residency and performance-based projects starting in the 2012/2013 season.
Summing up the purpose and commitment of Joseph Daley…. "If the music I compose provides one with a sense of beauty, inner peace and introspection then I am pleased"
For more information on Joe, please click here.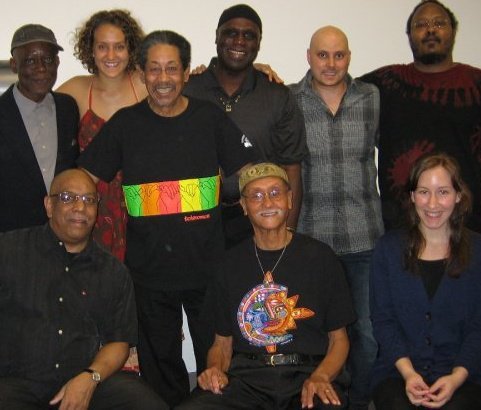 Jo with Bill Cole and the Untempered Ensemble (above) and with Howard Johnson's Gravity! (below)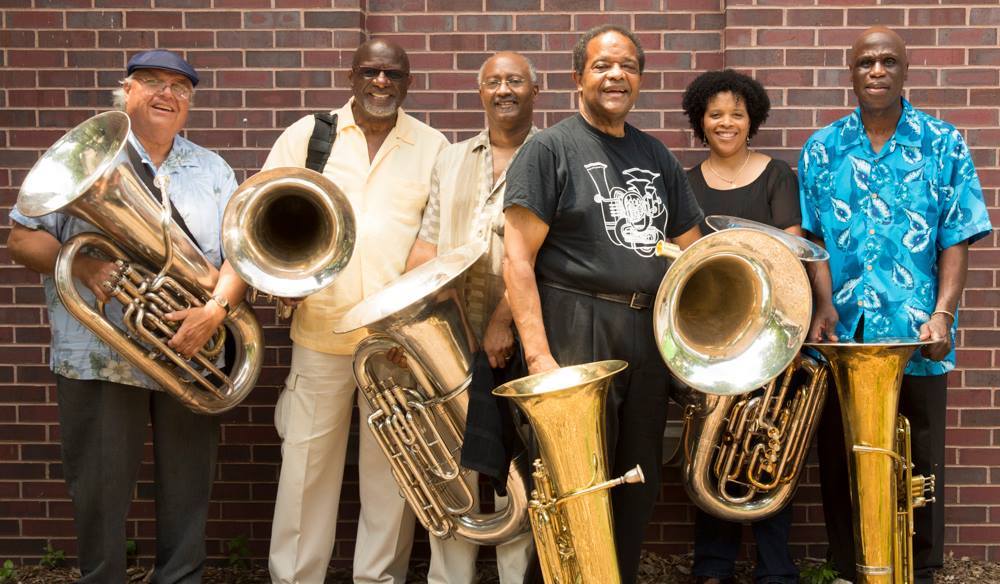 Recordings featured in this episode in order of appearance:
"Patience" composed/performed by Joseph Daly and his Earth Tones Ensemble on the album "The Seven Heavenly Virtues"
"Bam-Chik-A-Lay" Traditional folk song from Montserrat
Field Recordings from "Montserrat – Back Then"
"Pilgrims' Hymn and Bach Chorale" performed by Luther College Nordic Choir
"Jump in the Line" performed by Harry Belafonte
"Outdoor Overture" composed by Copland and performed by Bernstein NYP Live 1962
"Salt Peanuts" composed/performed by Dizzy Gillespie
"Groove-Time" composed/performed by Monguito Santamria
"'Round Midnight" composed/performed by Howard Johnson and Gravity!
"Fuschia Swing Song" performed by Sam rivers
"Don't Wait For The Day of Battle Before Getting Your Weapons Ready", from Proverbs for Sam by Bill Cole's Untempered Ensemble, Boxholder Records 2008
"Invidia – Envy" composed/performed by Joseph Daly and his Earth Tones Ensemble on the album "The Seven Deadly Sins"
"Wispercussion (Portraits of Warren Smith)" composed/performed by Joseph Daly and his Earth Tones Ensemble on the album "The Seven Heavenly Virtues"
This episode of the Earfull was originally recorded on August 24th, 2013 and released on January 9th, 2014. The cover art for the Earfull was made by Hallie Bean. I'd like to thank Joseph Daley for sitting down with me and you for listening. For more information on Joe, please visit his website at jodamusic.com.  As always, you can find the Earfull on the iTunes music store, and also on Facebook, Tumblr, and Twitter.