In this episode, pianist, composer, conductor and educator Ramin Arjomand discusses his early life in Tehran, the secrets of counterpoint and truth and trust in performance. Listen on Itunes!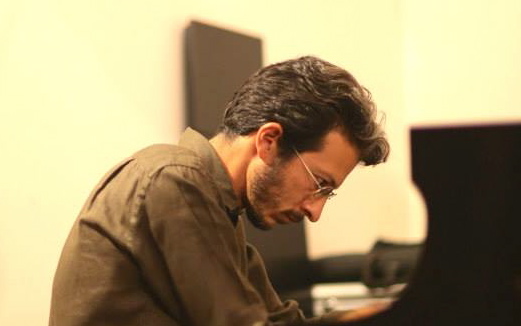 Ramin Arjomand is a New York-based composer, pianist, conductor, and educator born in Tehran, Iran. His composition teachers have included Stephen Jaffe, Gheorghe Costinescu, Fred Lerdahl, Jonathan Kramer, and Tristan Murail. His concert music has been performed by the New York Virtuoso Singers, Speculum Musicae, the Cassatt Quartet, So Percussion Ensemble, the Columbia Collegium Musicum, and numerous independent ensembles and soloists in New York City venues.
As a pianist, Arjomand has performed widely as a soloist and in ensembles presenting his own works. His approach cultivates spontaneity and thrives on questioning the need for pre-conceived formal structures in composition and performance. In recent appearances as a piano soloist, his activity has focused on total improvisation. His electroacoustic music, based in a ProTools digital editing environment, works primarily with recorded improvised sound material.
From 1999-2001, while a doctoral fellow at Columbia University, Arjomand was the director and conductor of the University's early music choir, Collegium Musicum. During this time he began to research the polyphonic technique of 15th century Flemish composers, whose music became the main focus of his concert repertoire with the Collegium. His doctoral dissertation essay, "On Contrapuntal Practice", is based largely on his research into this music. His interest in vocal music and in speech as music has led to a wide variety of concert, electroacoustic and music theater works that experiment with the human voice in different ways. In 2007, his work Alma Redemptoris mater for 12-part a cappella choir was awarded First Prize in the New York Virtuoso Singers Choral Composition Competition and was premiered in New York City with Harold Rosenbaum conducting.
Arjomand has worked extensively as a composer, pianist, lecturer, and musical adviser with the Barnard College Department of Dance. His approach to dance theater composition emphasizes contrapuntal relationships between sound and movement. He has worked to develop collaborative models in which composer and choreographer can trust one another to work freely and independently toward a common goal. His collaboration with choreographer Laveen Naidu,like arrows in the hand of a warrior, daybreak, was commissioned by the Barnard Dance Department and presented in Miller Theatre in New York City.
Arjomand completed his doctoral work in Music Composition at Columbia University in 2006. A much sought-after teacher, he has taught Harmony and Counterpoint, Composition, Piano, Chamber Music Coaching, Ear Training, and Masterpieces of Western Music. He is currently on the faculty at Columbia University and the Steinhardt School at New York University.
Recordings featured in this episode in order of appearance:
"Ethans" performed by Ramin Arjomand
"You Should Be Dancing" performed by the Bee Gees
"Nocturne Op. 9 No. 2" composed by Chopin and performed by Arthur Rubinstein
"Mama" from Genesis's self-titled 1983 album
"Canon at 12th, Counterpoint at 5th" composed by Bach performed by Cory Hall in "The Art of Fugue"
"21st Century Schizoid Man" by King Crimson
"String Quartet No 9 Op 59 No 3 C major" composed by Beethoven and performed by Alban Berg Quartet
"Partidas 1-3(BWV825-827)" composed by Bach and performed by Glenn Gould
"Requiem Aeternam" composed by Ramin Arjomand and performed by Collegium Musicum of Columbia University, Spring 2013 Concert: "Songs of People" (Tenor: Nicole Curatola, Baritone 1: Eddie Rubeiz, Baritone 2: Matthew Ricketts, Bass: Thomas Wang)
"Missa Fortuna Desperata – I Kyrie" composed by Jacob Obrecht
"Mobarakbad" performed by Mohammad Reza Mortazavi on Tombak, live from the Passionskirche, Berlin, the 19th of December 2008.
"Free Improvisation #3" performed by Cecil Taylor in Ron Mann's 1981 free jazz documentary "Imagine the Sound"
"Lights of Lake George" by William Parker from the 2008 album "Double Sunrise Over Neptune"
"Like Arrows in the Hand of a Warrior" by Ramin Arjomand
This episode of the Earfull was originally recorded on October 13th and released on November 13th, 2013. The cover art for the Earfull was made by Hallie Bean. I'd like to thank Ramin Arjomand for sitting down with me and you for listening. For more information on Ramin Arjmand, please visit his website at raminamirarjomand.com. You can find the Earfull on the iTunes music store, soundcloud, and Facebook.