In this episode, Nigerian afrobeat singer, percussionist, choreographer, fashion designer, graphic designer, and martial artist Duke Amayo talks about growing up in Lagos during the Nigerian Civil War, Fela Kuti, and trying to change the world with his music. Listen on iTunes!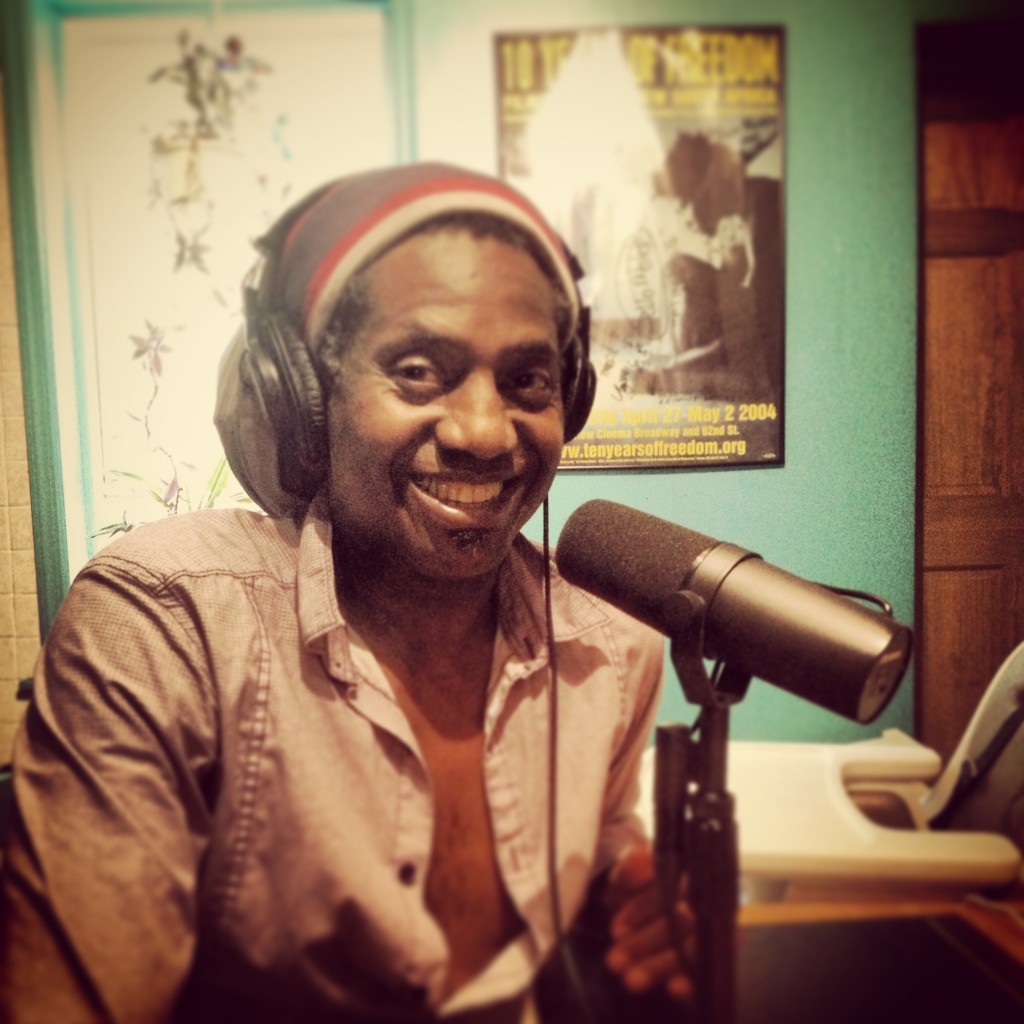 Duke Amayo sitting down for our interview in August British-born of Nigerian parents, Amayo's spirit was first ignited at Fela's club, The Shrine, in Lagos, Nigeria. While growing up in Lagos, his primary passions were dancing and practicing Kung Fu to the rhythms of funk and Afrobeat. It was then that the seed of Afrobeat was first implanted within him. Amayo first traveled to the United States as teenager to study at Howard University. He later became the founder of a collaborative dance and multimedia collective called the "New Race" in D.C. Upon moving to NYC, he founded his own fashion line called "Amayo." As the lead singer and percussionist  for Antibalas, Amayo has ignited festival crowds and packed audiences into a frenzy across four continents. Continuing in the tradition of Fela Kuti, Amayo presents the world with his one-of-a-kind style of music, dance, and martial arts – FU-ARKIST-RA. In addition to composing and arranging all the songs, Amayo sings and plays piano and organ intermixed with charged performances of traditional African lyrics and movement. He has opened for James Brown, performed with The Roots, Tony Allen, Femi Kuti, Seun Kuti, Baaba Maal, and with Michael Franti and Spearhead. As Sifu, he is a senior master of the Jow Ga Kung Fu School of martial arts, rooted in the ancient Shaolin school. He has been studying, performing, and teaching Kung Fu for 25 years. He recently choreographed a Kung fu/movement piece for the Washington Ballet, and has guest taught hundreds of NYC public school children for the National Dance Institute. Sifu Amayo has also trained and performed the role of the Lion Head in traditional Chinese Lion Dance for over 20 years. The Ancient Chinese Lion Dance is one of China's most celebrated traditions. It is a high-energy performance where professional martial artists don the elaborately decorated two-person Chinese Lion body (head and tail), bringing to life a rich oral history that spans many generations of Chinese folklore. The Lion is a symbol of strength and prosperity and is considered to be good luck by all who cross its path. Sifu Amayo begins his one of a kind FU-show by calling the lion to life, performing a salutation ritual and paving the way for dance and celebration of our limitless possibilities. The Lion may be playful and happy, fierce, or bashful, depending on the mood. For more on Duke Amayo, visit antibalas.com.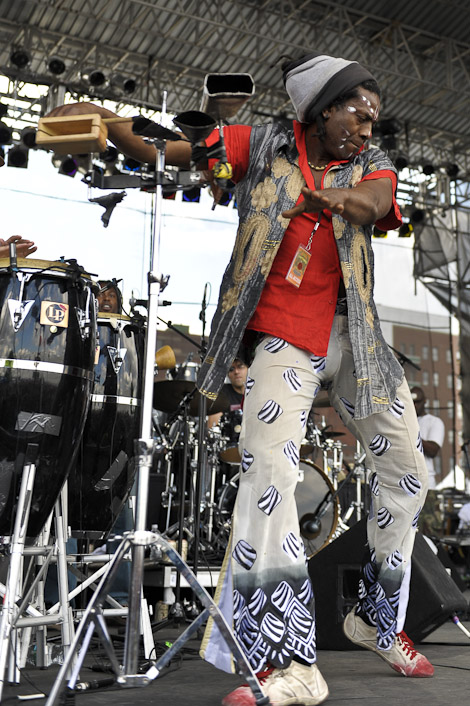 Amayo performing with Antibalas at Roots Family Picnic in 2009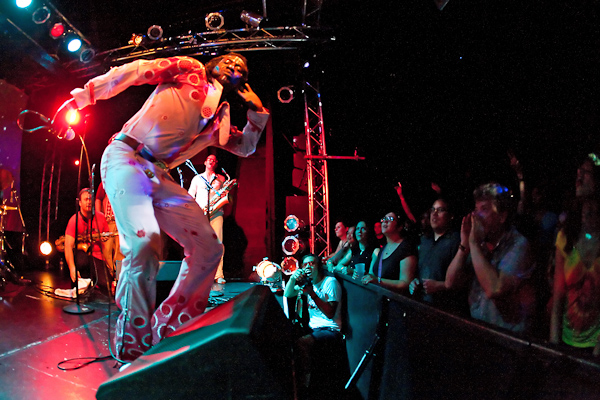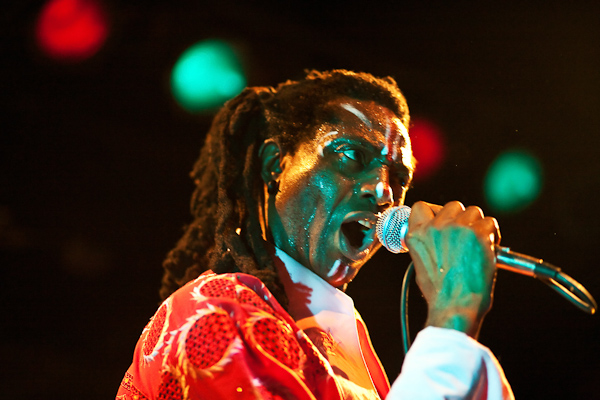 Amayo performing with Antibalas at Echoplex in L.A. in 2010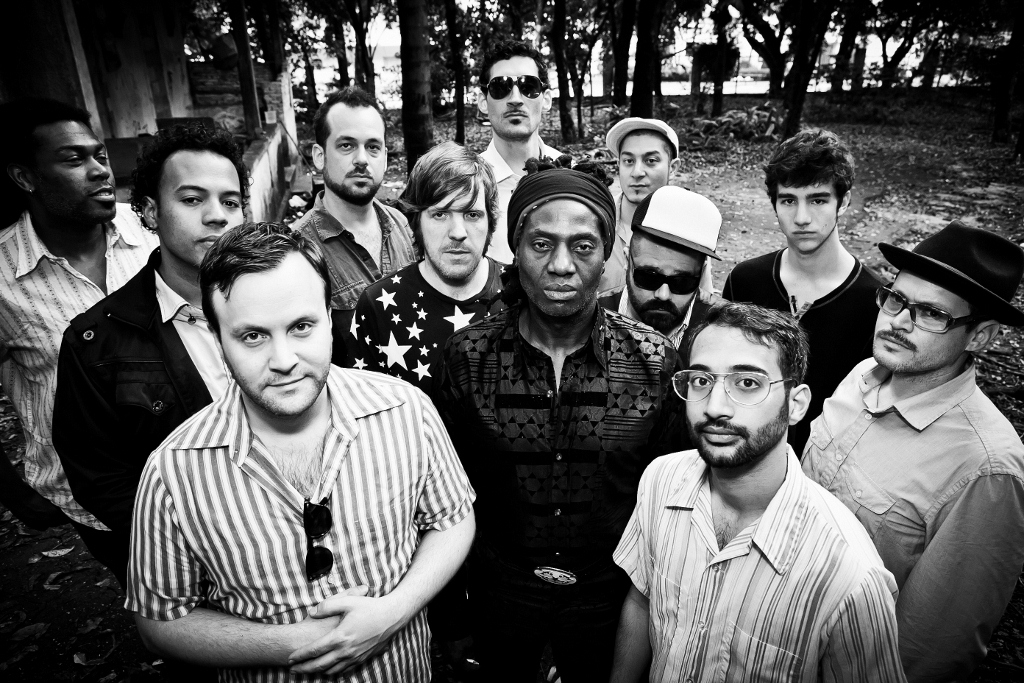 Amayo with Antibalas in Sao Paulo in 2012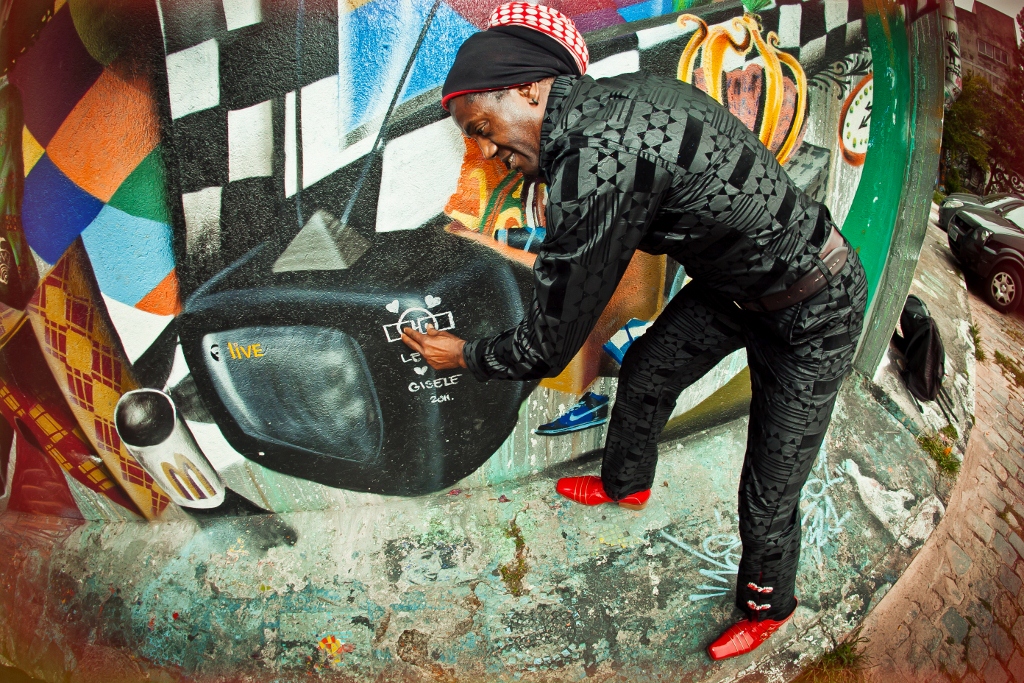 Amayo in Sao Paulo in 2012 Recordings featured in this podcast (in order of appearance): "Dirty Money" by Antibalas from the self-titled album (Daptone Records, 2012) "Ghana Style percussion" by Chata Addy and Sidah "Joromi" performed by Sir Victor Uwaifo "African Roots of the Blues, Part 1" "Clips on Nigerian Civil War" "Mr. Follow Follow" by Fela Kuti Clip from "The Invincible" with Jimmy Wang Yu "Car Wash" from Rolls Royce Greatest Hits Northern soul classic "The Snake" by Al Wilson "Sweet Banana" by King Sunny Ade "World War IV" by Antibalas "Zombie" by Fela Kuti & Afrika 70 Fox News coverage the 9-11 attacks "Who is this America?" by Antibalas "Him Belly Go No Sweet" performed by Antibalas at WFUV This episode of the Earfull Podcast was originally recorded on August 13th and released on October 2nd, 2013. The cover art for the Earfull was made by Hallie Bean. I'd like to thank Duke Amayo for sitting down with me and you for listening. For more information on Duke Amayo, please visit antibalas.com. You can find the Earfull on the iTunes music store, soundcloud, and Facebook.