Vieux Farka Touré at Kings Place, London; January 27th, 2016
This piece, written by Althea SullyCole, was originally published for "A World In London"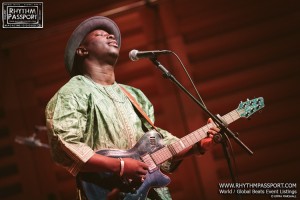 Malian vocalist and guitarist Vieux Farka Touré, who has joined us on A World In London on two separate occasions in 2010 and 2015, performed at King's Place near King's Cross in Central London. Touré has released three studio albums, one live album, and several notable collaborations since 2007.
Touré sauntered on stage at 8:15 pm or so, donning a traditional mint bou bou and a fedora shading his eyes. He picked up his guitar and dashed into the first two pieces, "Filipa" and "Fafa," with a particular urgency. His backing musicians, bassist Jean-Alain Hohy and drummer Jean-Paul Melindji, in more contemporary dress but similar visors, followed suit.
His third song "The World," then launched the audience into the most alt-pop/rock sound of the evening, followed by "Ali," a salute to his father, the late Ali Farka Touré, (pioneer of the desert blues style of northeastern Mali), with a more African feel.
After one more song, "Jakhal" and a twenty minute intermission, it became clear that Touré had saved much of his energy for the second set. Indeed, "Waliadu," a cover of his father's most iconic tune, was certainly the crowd favourite of the evening. The modern Malian traditional "Jarabi" that followed, reinvigorated by one of Touré's most creative and harmonic solos of the concert, was certainly a high point. By the end of the tune, Touré's voice relaxed into an earthy, sonorous unison with his guitar–a welcome moment of meditation in an otherwise hasty performance.
To conclude, Touré delivered a few dance tunes, leaving his backing musicians room to build upon dynamics and even do a bit of soloing, though the spotlight remained consistently on Touré. The final few notes ended abruptly, evidently in expectation of an encore.
There is no doubt that Touré is a seasoned performer and virtuosic guitarist with a powerful command of his audience and a seemingly infinite well of creativity at his roots, which is why I couldn't help but wonder why Touré didn't seem to be exerting much energy into his performance. Was it the intimate, seated venue, which, compared to the hipster underground dance club stages Touré graces in Mali, lacks some sort of electricity? Maybe the odd twenty minutes between sets stunting the momentum? Perhaps it is that Touré lacks a bit of the patience, charisma and feel of the dessert blues sound without straying too far away from it outside of collaborations with other artists. Or maybe it is that audiences are witnessing Touré evolve a way to stay within the genre his fans expect to hear while also distinguishing himself from his family lineage. Whatever the reason, and however it may read, Touré remains a dynamic and dextruous artist worth watching.