Rokia Traoré at Roundhouse, London; February 6th, 2016
This piece, written by Althea SullyCole, was originally published for "A World In London"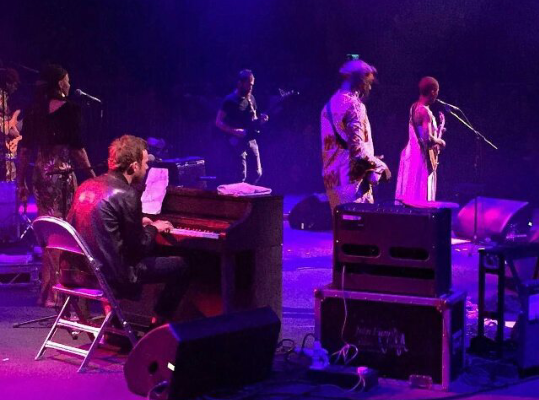 Singer songwriter Rokia Traoré performed at Camden's Roundhouse on February 6th and Althea SullyCole was there!
Although Traoré is of noble Malian Bamana dissent, it is much more accurate to say that her music is the product of an increasingly globalized world, perspective, and set of influences, rather than of Mali. She grew up all over the world, settling temporarily in Algeria, France, Saudi Arabia and Belgium in her youth. She has released 5 solo albums since 1998 and her current tour is in promotion of her 6th album, "Né So".
What is perhaps most notable about Traoré's performance is her uncanny ability to make any room, no matter how big or small, into an intimate space. She waits for silence before she begins the solo guitar riff of "Mayé" at the beginning of the show. This focused sound exudes strength and calm, asking the audience to lean into it, like children gathered around a sage storyteller.
When the music really gets going, however, it is the strength of her sharp and reactive ensemble that carries the show. Namely, Bintou Soumbounou singing backing, and sporadically lead, vocals in the powerful jelimusoBamana style of mali that Traoré sometimes lacks; Moise Ouattara on drum set bringing a rich syncopation that would rival a much larger Malian percussion ensemble; Matthieu N'Guessan performing a very contemporary West African bass style, in the vein of Richard Bona and Habib Faye; Stefano Pilia, an Italian musician, the only one not of West African descent it seems, bringing in cinematic soundscapes with his ethereal guitar style; and, lastly, Mamah Diabaté, a star n'goni player, whose every accent feels perfectly timed and balanced with the rest of the performance.
Apart from a few selections, namely "Koté Don" from her 2004 album Bowmboi, followed by "Mélancholie" from her 2013 album Beautiful Africa and "Zen" from her 2008 album Tchamantché, Traoré performed all new material from her forthcoming album, taking the audience on a politicized acoustic journey through dark, measured introspection to electrified and exuberant celebration. Through it all, however, Traoré remains devotedly on message, speaking candidly about current issues such as the refugee crisis.
Traoré concludes with "Strange Fruit," an anti-lynching anthem popularized by American jazz singers Billie Holiday and Nina Simone, and based upon the poem first published as "Bitter Fruit" by the Jewish American teacher Abel Meeropol. It is hard to believe that the piece could be any more haunting, but Traoré's intimate performance style and worldly voice brings current black issues, once confined to the African-American community overseas, to be relevant to each member of the audience personally, reflecting on the growing awareness and relevancy campaigns such as Black Lives Matter from the States are gaining globally.
If you have the chance to see Rokia Traoré live, it is a rare and important opportunity to witness not just an award-winning musician, but also an eloquent poet and powerful activist do her work alongside a virtuosic ensemble. If not, you can still get a hold of her album, "Né So," out later this month on Nonesuch Records.