Gilberto Gil & Caetano Veloso at Barbican, London; May 4th, 2016
This piece, written by Althea SullyCole, was originally published for "A World In London"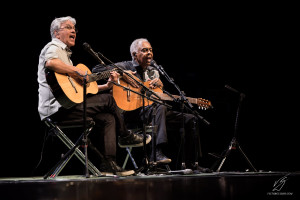 Caetano Veloso and Gilberto Gil's triumphant return to the London stage at the Barbican on May 4th was so full of intimacy, grace and humility that one would never know that they remain two of the greatest pioneers of Brazilian popular music. The engagement marked nearly 45 years since their exile to London during the military dictatorship in Brazil in the 1970s, yet they still seemed perfectly at home. In button up shirts, black jeans, and matching black sneakers, the two descended onto the stage as if it were their front porch Bahia; Veloso sat with his guitar resting over crossed legs, while Gil used a classical guitar foot stool (unorthodoxly under his right foot), with one glass of water and and another of red wine between them.
With more than 40 albums of material, the two 73-year-old artists had a vast repertoire to draw from for this monumental performance. From massively popular hits like "Tropicalia", "Expresso 2222", "Filhos de Gandhi" and "O Leozinho", to more obscure songs like "É De Manha" (written in 1963 by Veloso, this was the oldest composition of the evening) and "As Camélias" (the newest piece, written in collaboration), they breezed through 25 pieces in less than an hour and half, returning for 2 encores, amounting to a composite performance of 30 pieces in two hours. The feel between them, nostalgic for another time, place and circumstance, achieved a sort of unison seldom seen in younger performers, as their two hands wandered over the neck and nylon strings of their respective guitars like choreographed dancers. However, when the performance began to feel too relaxed or nostalgic, Veloso would spice things up with a performative shimmy or 2 step, dancing to the delight of the crowd.
As individuals, Veloso, one of the most romantic voices of our time, exhibited the best of his dextrous and evocative vocal command in classic pieces like "Tonada De Luna Ilena", while Gil displayed his endless creativity in characteristic labyrinths of chord progressions, coming to an impressive zenith in a jazzy interpretation of Bob Marley's "Three Little Birds". Together, their effortless vocal harmonies and undulating samba rhythms produced the most romantic atmosphere one could imagine in a room filled with nearly 2,000 people. Indeed, these songs and these performers put their audience at such ease, you can feel couples leaning into one other, holding hands and old friends swaying gently together, shoulder to shoulder. If you are not afforded the rare opportunity to see these two perform, I highly recommend purchasing their new album, "Dois Amigos, Um Século de Música" ("Two Friends, A Century of Music"), and putting it on in your living room with a few friends. This is the most authentic performance.