This piece, written by Althea SullyCole, was originally published for "A World In London"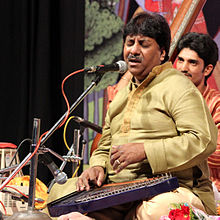 On Monday, May 30th,
Ustad
Rashid Khan performed at the Barbican as part of the Mystic Voices Festival produced and presented by Anandadhara with support from the Sama Arts Network.
Khan's ensemble consisted of two statuesque women on tanpura (Aarthi Iyer and Sandhya Murthy), vocal support (Nikhil Madhav Joshi) between them, a sarangi player (Murad Ali Khan) on Khan's right and tabla (Shubhankar Banerjee) and harmonium (Ajay Joglekar ) players on his left. Together, they composed a beautiful tableau in their iridescent clothing in the magenta light. Working his way up the 12-note scale paired with elegant hand gestures bending from the wrist, Khan took many pauses to clear his throat at the beginning. Such a show of technique could be compared to being presented with an indecipherable menu. By the end of the performance, however, his precise intonation often blended so well with the harmonium one wouldn't necessarily have noticed when he had let the note go. The effect was a sonic feast so saturated that one couldn't help but be gratified not only by his or her own enjoyment and newfound kinship with the knowledgeable audience.
I'm certainly no expert in Hindustani music, but I am not entirely ignorant to it either. I am at the very least cognisant of the weight of the legacy that Khan carries on his shoulders as the great-grandson of Ustad Inayat Hussain Khan (1849–1919), the founder of the gharana vocal tradition of Hindustani music local to Northern Uttar Pradesh. Is his performance authentic? Absolutely; who can argue with a standing ovation after a 3 and half hour performance from a largely North Indian audience? Did Khan's voice lend itself to a mystic transformation, as advertised? Perhaps not so much. There is no doubt Khan is a refined and impressively technical singer, but at no point did his voice bring him, or the audience for that matter, to an electrifying catharsis. In fact, it was the tabla player's solo accompanied by the harmonium and sarangi that represented the most dynamic moment of the evening. Whatever your take from it, however, an invitation to see Ustad Rashid Khan should not be turned down.