Weeks 19-24: Korist Ku Jigeen
Dear Internet,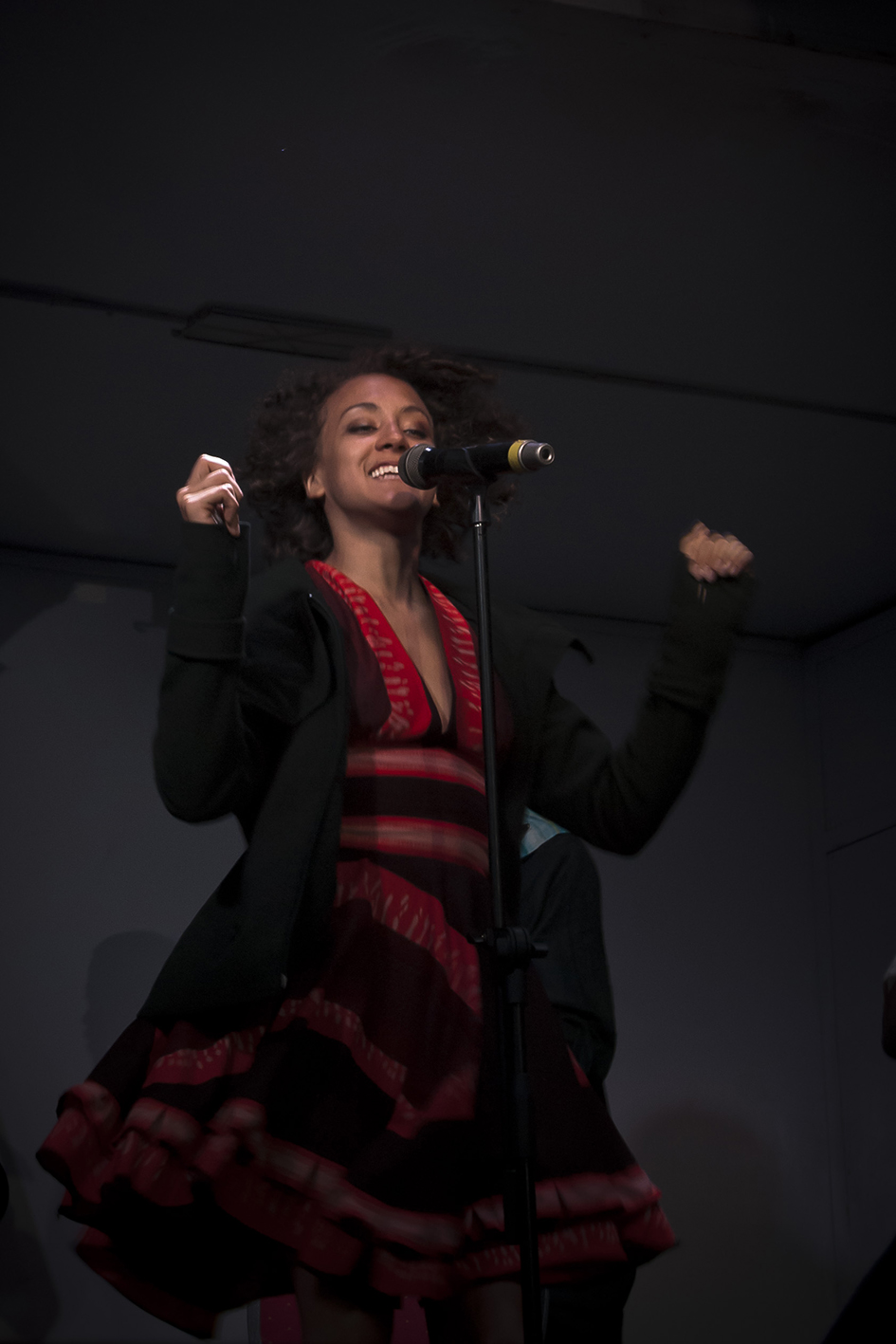 photo credit: Louis Dominique Faye
'No that can't possibly be the bus…' I say to Khadim as we approach Sahad's apartment building. This is where the Natal Patchwork convenes before a concert date outside of Dakar. As usual, no one is there at the declared time. Unusually, however, there is a large, plush-looking bus parked outside instead of a rickety, squished njaag njaay. 'But look – there are drums packed up top. It must be your bus.' Khadim responds. I furrow my brow. 'But we're Sahad & the Natal Patchwork!' Khadim lets out a little laugh and shrugs. We install ourselves on a cement block on the side of the road and wait.
Sahad, Pape Sy (our sound engineer), and Brahim (the lead guitarist) finally show up. They throw some baggage inside the bus, some instruments up top. The other members of the band gradually appear. Then, Alibeta, Sahad's older brother, and his band show up. Next, members from L'Orchestre National. Finally, Pape Niang and his players. I wave goodbye to Khadim as he races off with my bike and the bus starts up. We are headed to the St. Louis Jazz Festival; 5 days of music on nearly every stage, restaurant and bar in the cidevant capital of (colonial) francophone West Africa. I am the only woman, the only non-African. I nearly have to pinch myself sitting beside these Senegalese music legends.
But there is someone there to do it for me; one of the bus organizers pulls down the bench that bridges the gap between the rows of seats beside me and begins to pinch/rub my thigh, calling me his "toubab xarit" or 'whitey friend'. At first, I'm simply stunned. I don't know what to say. I know others can see it and I'm embarrassed. He reaches for something and I'm freed, but not for long. The hand returns, this time closer to where my legs meet. I first joke with him "Ey – defal ko ag Pape Sy," ('Hey – do that to Pape Sy,') who is sitting at the other side of him. The comment is meant to be a reminder that he's misled to treat me any differently from anyone else on the bus, but he pretends not to hear it. I make a fairly strong statement in wolof – "baay ma," ('leave me alone,') – though quietly, as I push his hand off. But it quickly returns. "Arrete, s'il-te-plait" ('Please stop') I plead, trying not to make a scene. He turns to look at me – he must be in his late thirties, but the drinking and smoking has rendered his face that of someone in their early fifties. "Ey – fais attention," ('Ey, be careful,') he says, pointing his skinny, crooked finger in my face. His breath stinks through the few browned teeth he has left.
The bus comes to a stop at a restaurant and I quickly hop of the back. "Ey – viens! Questce-que tu cherches?" ('Ey – come! What are you looking for?') he says, running after me. "Laisse moi tranquil, s'il-te-plait." ('Leave me be, please.') I tell him, and he retreats, a bit. When I get back on the bus, I sit next to Tass, the drummer in Sahad & The Natal Patchwork. He quickly seems to turn bitter and covertly lashes out at me – pulling my hair painfully, punching me as though it were in accident – though the bruises on my right arm tell the true story. I ignore it and carry on as though it's not happening. In New York, I would have gladly taken the chance to loudly make his harassment known and embarrass him. But here, where I have received repeated lectures on why women are to 'stay in the shadows,' I know that such an act would inflict more conflict and difficulty upon myself than my harrasser.
I was niave to think that my status as a musician would relieve me from my status as a woman. A few months ago, my kora teacher said to me, 'Ah – you have another gig? Well, yea, you're a woman, and a toubab [light-skinned] at that so…', rationalizing why I would be getting opportunities to play here so quickly. He was right, but it still hurt. People, often musicians he works with, talk about me to him, saying how great it is that one of his students – the toubab korist(!) – is mounting stages all over Dakar, and actually plays well! I've seen him lower his gaze and nod at a comment like this, as if embarrassed. It's a response that's very difficult for me to interpret, particularly because it comes from the person whose opinion means most to me, musically. My current conclusion is that he knows that the hype is only due me being a woman and a toubab, which is probably disappointing, and maybe even frustrating, for someone of his stature.
But no one needs to tell me that I'm only hired because I'm a light-skinned woman. I know that. I know that the only way I came to even learn the kora is because I'm a foreigner; families in Senegal aren't often capable of investing in musical education for their children, particularly if they come from outside the tradition and particularly if their children are girls. It is for this reason that it is striking to see a light-skinned woman playing the kora. I can see it in the eyes of skeptical spectators every time I mount a stage. It used to be motivating. But, after a time, I came to feel that that motivation was often in vain each time someone would ask me, for example, if I was a dancer or singer while I was holding my instrument, an instrument I crafted myself, in plain sight. Now, the skeptical gaze, the harassment, the fact that some people will never see me as a respectable musician no matter how good I get, is just the norm. Frankly, sexual harassment for women, particularly in the music industry, is typical, and not particularly in Senegal. Senegal is simply more difficult because I'm alone here; I have little community. Furthermore, I don't always understand the culture, the language. But, no matter what, come nightfall, the concerts will start with or without me, and, like the mosquitoes, so will the men descend.
At some point on the bus to St. Louis, after going to the bathroom, I pull out hand sanitizer to clean a little cut I have on the inside of my palm. The man pokes his head through the seats, pulling at my hair again, and says to Tass, in wolof, 'The toubab will always think us Africans are dirty while she takes advantage of our country. Never forget that,'thinking I don't understand. "Ey sama xaritu benn bakkan la." ('Ey that's one of my best friends') Tass says mildly. Tass was the only one directly involved, but lots of the men could see what was going on; at least 30 men on this bus and not one said a word. It's scary. I've played with most of them – would I even be on this bus if they didn't think I was descent player?
Perhaps not. Ever since I've started singing back-up vocals in Sahad's band, I've begun to be treated differently. It seems I've begun to fill a space to the side that only women seem to occupy and it devalues my place as an instrumentalist. It's all parallel to the place women occupy in the larger society. When the sound of my kora doesn't work, "c'est pas grave" ('it doesn't matter') Sahad says. When there is enough amplification to go around, "c'est pas grave – Althea tu joues pas se soir" ('it doesn't matter – Althea you don't play tonight'). And, yet, like the rest of group, I have to make sacrifices, sometimes play for no money and rehearse for long hours. And I do it. I'm on time. I'm professional. I am loyal to Sahad, but is he loyal to me?
There is another American, a blond guy from Nashville named David with a fancy electronic piano. He plays mostly with Sahad's brother and with us from time to time. He is never at rehearsals and yet always gets paid. One night during the festival in St. Louis Sahad told me there wasn't enough room for me while David was invited to play. "Yea, it's completely unfair, I know. I don't know why he does it this way. Yea, no, you could never make demands [such as always getting paid] like that," David says to me one night. American musicians are very highly regarded, we both know, but not American women.
So why do I do it? "It's bigger than you," Mo Fia, one of my closest friends and a well-known sound engineer, and Edou, my kora teacher, have both said to me. It's bigger than me. I love the music and the music pushes me to persevere. The music pushes me to become better, to make space for women. In my first blog entry of this trip, which I wrote in the airport, I wrote:
It became clear to me very early on in my studies that simply having the agency to study music is hard to come by for most Senegalese citizens. In most cases, it stipulates that one be a man, that his family be open to the idea and be able to afford to give him the education without much expectation of a return, among other things.
I want to change this. But I can't change what I don't know. I must know what women go through here. I must endure it. I must be strong. I must come out on top. If I can do that, and provide the opportunity for more girls, if only a numbered few, to mount stages like I have, then it will all be worth it. And I'm on my way. When I get frustrated, I think of my guitar students. I've racked up 6 young girls, ages 8 -16, all enthused, appreciative, and hard-working. I teach them all for free because I know their parents can't afford it. Every time I think about going home, I remember that their music education will stop where I've left them. My skill set is far better used empowering them, then behind a desk in New York.
But these thoughts don't always make it easier. At first, sexual harassment can feel flattering, but after awhile, it breaks you down. Every time a strange man asks for my number before my name, calls me "ah sama guitarist" ("ah my guitarist!") without even looking at the instrument on my back, or tells me I look sexy when I come off stage after working incredibly hard musically, they can't possibly know the hacking on my spirit in which they are taking part.
On Friday morning, the morning after the 7 hour bus ride to St. Louis, my breakfast tastes salty, soaked with tears, as I mentally break down. I miss my mom, my language, my home.
But who is first to come to my aid? The men in the band; hugging me, telling me it would be okay and asking if there is anything I needed. I mustn't forget this, nor the kindness of Sahad's 14-year-old nephew when they wake him up at 4 in the morning to give me his bed such that I am comfortable. Nor my friend Khadim, who has continued to make me feel safe by changing locks, fixing windows and helping me with my aggressive landlord in my new apartment, often without me asking. I can not forget Edou, my kora teacher, who has spent hours upon hours training me to be a better korist, sometimes without pay. Or Mo Fia, who controlled a violently drunk man when he threatened one of my few fellow female musician friends.
"Ah – c'est une kora au derriere, eh?" ('Ah that's a kora on your back, huh?'), Ablaye Cissoko, the best korist in Senegal, says to me at L'Institut Francais in St. Louis after coming off stage. "C'est rare, une femme avec un kora. Bon courage. Prends mon numero" ('It's rare, a woman with a kora. I wish you courage. Take my number.') I quickly pull out my phone and save his number. 'Send me a text letting me know who are so I remember you,' he tells me before other fans approach him.
Asalaamalekum. Althea SullyCole laa tudd, korist bu jigeen ki nga gisoon ci institut francais laa. Enchantee franchement, jerejeff bu baax.

Peace be unto you. My name is Althea SullyCole, I am the female korist you saw at the French Institute. It's a pleasure to meet you, truely, thank you so much. 
Being the only female korist in Senegal does have its advantages.
Until next time,
Much love,
Althea