Dear internet,
My sincere apologies for the long absence. I have been overwhelmingly busy with rehearsals, concerts, and teaching. Since I last wrote, I've performed solo kora for the Senegalese prime minister Aminata Touré, my parents visited for two weeks, I completed my first semester teaching english to a college class of 47 students, been in meetings with a non-profit called Give1Project about funding a traditional music program I'd like to do for young girls here, among many other things.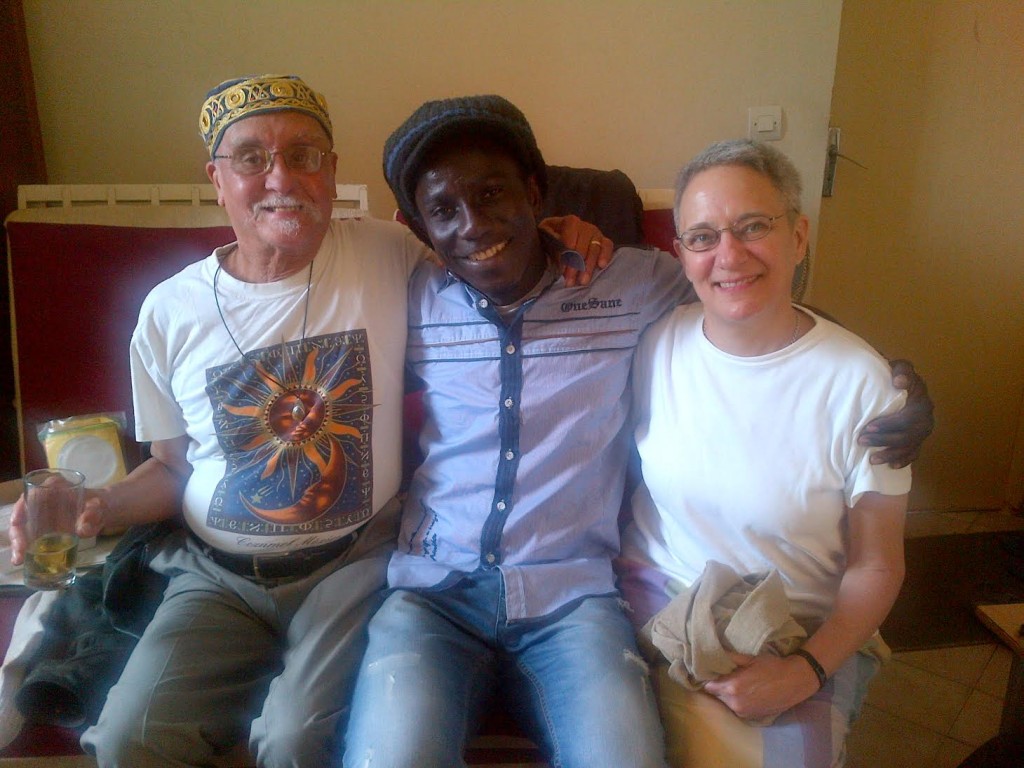 my parents with my kora teacher
One particular highlight since the last time I wrote was a trip to Saly, a touristy town in a beachy region of Senegal called Mbour. I traveled there on Valentine's Day with Sahad and 5 other members of the Natal Patchwork: Brahim, the quiet bohemian lead guitarist; Tass, the gentle and joyful drummer; Hono, the boisterious Djembe player; Francois, the intellectual bassist; and Eli, the now departed (to England) German saxophonist. We also had 3 cameramen and our sound technician, Papy Sy man, in tow. The other musicians; animated brothers Gis and Thieupe from the Congo, who play trumpet and trombone, respectively; our stylish and charismatic manager Lou Lou and his equally chic French girlfriend Perrine; and our glorified roadie, Alec, from Belgium; would join us on Saturday.
The tour was everything one could dream a tour with a big band of musicians could be – a rickety tour bus, beautiful beach location, late nights and terrible food. We piled into a rented Njaag Njaay – a white world war II era vehicle remodeled to serve as public transport throughout urban areas of Senegal – with our instruments at around 3 pm on that Friday. In our bus, you could watch the wheels struggle over Senegal's turbulent roads through the holes in the floor. Snacking on hot clementines and cold bags of water, we passed through the congested center of Dakar to the gritty suburbs to the spacious country in a fog of cigarette smoke and mbalax. As you enter rural Senegal, the landscape diminishes to a very low escape, save a few spiny baobabs reaching upwards to poke at the vast, cloudless sky. 
Just as I was immersing myself into the surreality of it all, we got pulled over by the gendarmerie outside of a town called Rufisque. It made me a bit nervous, especially since I didn't bring my passport out of the fear of it being stolen. As soon as the cop came up to the driver's window, members of the band started offering him slices of clementine and cigarettes. The driver explained we were a band playing at Les Vielles Pirogues festival in Saly. The cop walked to the back of the van to check out all the cargo. Before I knew it, he and a few other cops were playing guitar and serenading us. They gleefully wished us a safe trip and we were on our way.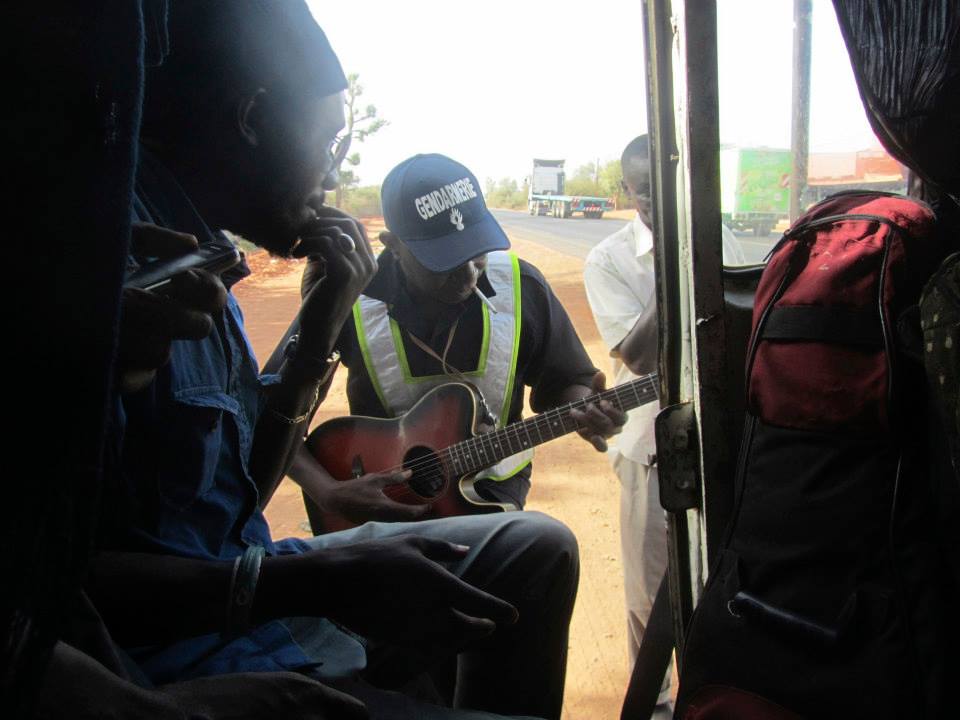 serenaded by the gendarmerie
The first night in Saly we stayed at a compound that belonged to Sahad's friend. It was essentially a gated plot of sand with two small rooms, covered by thatched roofs, built in the corners of the entrance. There was also a very large well and a small structure in the center for protection from the sun while sitting outdoors.
We visited the festival briefly that first evening, mainly to see our friends in the band I-Science perform. At the festival, in addition to the stage, there were many tents with artists of all mediums selling their work, local liquor makers selling their elixirs, and fry cooks serving up street food. At the entrance, there was a helicopter and several old-fashioned fancy cars on display. Last, there were a few inflated structures for kids to bounce and slide in. However, fatigued quite quickly by the cold wind and dust in the air, we headed back to the compound before the concert was over.
On route, the sound engineer purchased some whiskey, to my surprise. Although nearly everyone in the group, save one christian and two non-believing westerner`s, follows the Islamic faith, nearly everyone in the group also drank that evening, which I had not seen before. I also saw the hair of several of these baay falls for the first time ("baay fall" literallly means "father fall" and signifies a member of a branch of the Mouride brotherhood founded by Cheikh Ibrahima Fall). I found myself staring a bit, to the amusement of the band. I headed to bed early, wanting to be in good form for the following night's performance. My face illuminated on one side by the warm, flickering candlelight below and, on the other, the cold, relentless moon above, I fell asleep to the sounds of the men's voices accompanied by acoustic guitar and cigarette smoke.
The whole weekend all I ate was sandwiches that would be horrific to some Americans. The next morning, for example, I ate a sandwich filled with pasta and black eyed peas that was about 4 times the size of my stomach. "No – you're American! Eat! Eat!" Fran, the bassist, told me after I asked him if he would like to share. I did as I was told and finished it, but could hardly eat for the rest of the day.
We were all relieved to see the 5 other members of our group join us at the festival before sound check on Saturday afternoon. The evening before, Brahim had what seemed like a very casual and unalarming conversation with Thieupe, the trombonist. But when I asked him what Thieupe had said, Bra told me that the brass brothers in our band did not have enough money to come. I immediately texted our roadie and he made sure to take care of it. We clapped, cheered and hugged upon seeing our missing members walk up to our tent.
Our lodging Saturday night, a beachside villa on a local resort, was a dramatic contrast from that which we inhabited Friday night. The ocean was just a few sandy footsteps away from our abode, stuffed with 10 beds for 15 people. The palm trees, full of coconuts, were so perfect they looked like fireworks exploding in the daytime. Flowers, adorning nearly every inch of the property, reflected the colors of coral reefs. We spent the afternoon there, waiting for I-Science to bring back the keys and take out their belongings.
Reunited and settled at last, the group became particularly bonded by a mutual mission. When the time came for us to fully execute it, we were ready. Come nightfall, Sahad gathered the whole group and told us to focus and not mess up. He then told us we would be doing something different for this performance. "We are going to improvise something right now and go to the stage from within the crowd singing this new tune." And so it was.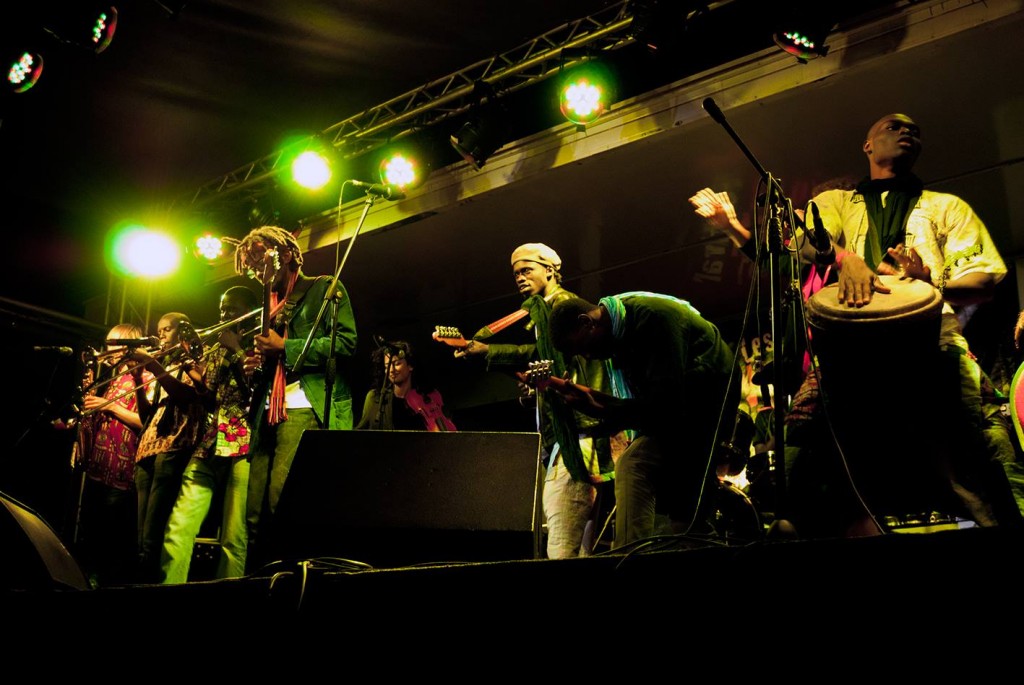 Sahad & the Natal Patchwork performing in Saly
Sahad's plan was perfect, save the fact that there were no steps leading up to the stage, meaning I had to jump over some barriers in my new, short maroon and pink dress created by Baay Souley. It wasn't the first time I would see suggestive glances in the audience. They were one of the few things I actually noticed from time to time in the crowd through the blinding lights and fog machine, my eyes getting weary from bits of sand blown in a cold wind that was also lifting up my dress. It was a bit disorienting, but Sahad's music is so comfortable and fun that the band came together in a solid fashion.
I got drunk pretty quickly coming off stage, with people handing me everything from cans of royal dutch beer to fine limoncello. In the morning, after a 10 hour sleep, I felt as though someone had punched me in the face. It was oddly nice to be able to party knowing that there were 10 dudes watching out for me. On the way home, now with some 15 people in our group, all of the instruments had to be placed on top of the van. I watched Sahad hand Brahim pass the guitars to one another, holding my kora with a niave obliviousness to what was happening. Thieupe pointed to my kora and then the roof of the van, smiling. "jamais, jamais, jamais," ("never, never, never,") I say, shaking my head. Surely he must be joking. "Non, il faut Althea" "Non Sahad, s'il-te-plait, non." ("no, you must, Althea" "No, Sahad, please, no.") "Non," Sahad says, now shaking his head, "Il faut." I recognize his tone. The authoritarian is coming out. I place my head in my hands, refusing to watch it go up, and cringe the whole ride to Dakar. I'm happy to report that my kora is sitting beside me now, safe and sound.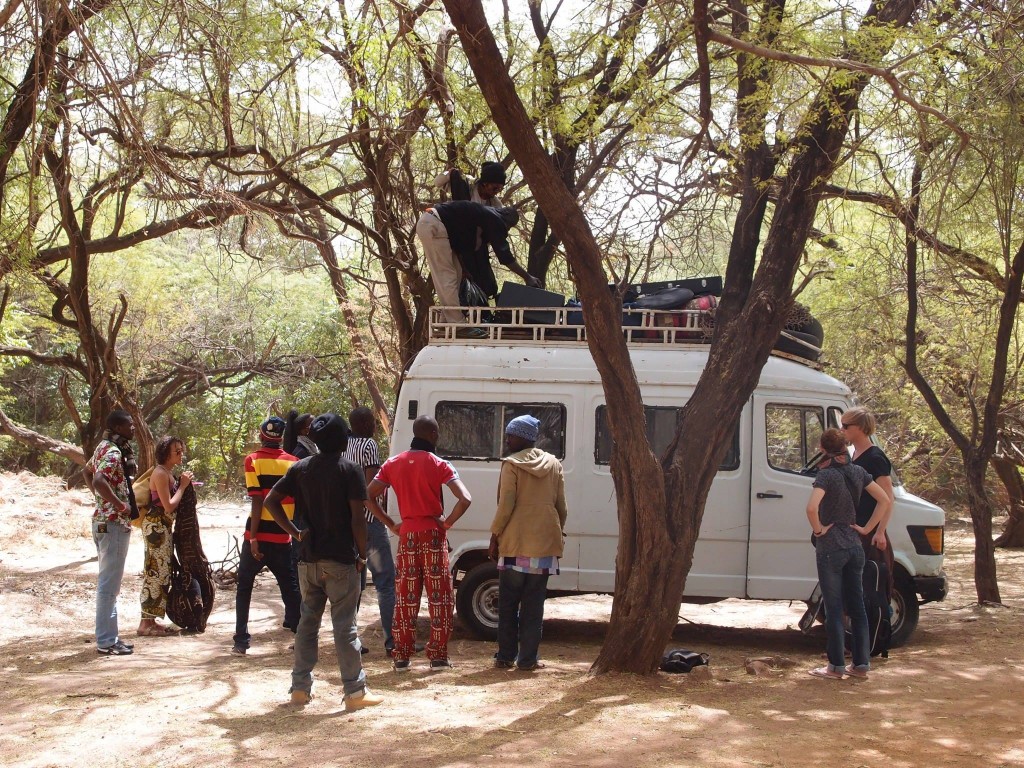 placing instruments on top of the Njaag Njaay
Ever since I've returned from that festival things have begun to change. People have started to recognize me where I don't expect them to. In studios, I've begun to be known as "Jali bu Xees" or "Jali Ndiaxas" ("light-skinned griot" or "biracial griot"). Every once in awhile, especially now with the somewhat distinctive long pink braids I had put in after growing tired of cutting my hair, people will call me by that name when they see me with my kora riding around on my vespa.
I'm often snapped out of this rockstar lifestyle, however, in deeply humbling moments. Just the other day, for example, Ndongo D of Daara J invited me to the studio specifically when they would be filming a special about Bois Sakre (his studio) for RDV – national television. I go to his house for lunch from time to time and we always have very interesting exchanges about hip-hop. 'We can have a discussion – just like this,' he says when inviting me. I think this is an awesome idea and I am more than honored to be beside Ndongo anytime.
with Ndongo D of Daara J and Momo of Give1Project
The day of the shooting, as with many days here, I found myself running around to different parts of town like a chicken with its head cut off. People often move slow here and I find myself trying to pick up the slack, successfully or not. That particular day, I taught at the international school for 7 hours before rushing to grab my kora for the rehearsal I would have after going to Bois Sakre. I then scooted over to the studio, made fresh and clean for the shoot. I, on the other hand, was already exhausted and felt rather worn from my day. Lots of artists from the label were there, incanting jali bu xees as I came in. The film crew asked me if I played the kora and, when Ndongo invited me to sit beside him, they asked me to take it out. As they were filming, they only ask Ndongo questions, in wolof no less. Sure, I can speak wolof – enough to know very well that there's no way they are directing these questions at me. 'Of course,' I think, 'why would anyone care what I have to say, really?' I still feel cool being the person sitting beside Ndongo with my kora in the studio. To my surprise, however, they do turn to me. But instead of asking me about hip hop, they ask me to play. I tell them the kora isn't tuned and I don't have my tuner. Someone hands me one, and so I start tuning, knowing very well I am going to have a very tough time navigating the diatonic instrument over the freestyling beat they are playing for Ndongo. But I think of my brother, a percussionist based in Boston, who once told me to never say no to an opportunity to play, and decide that I'm just going to have to wing it.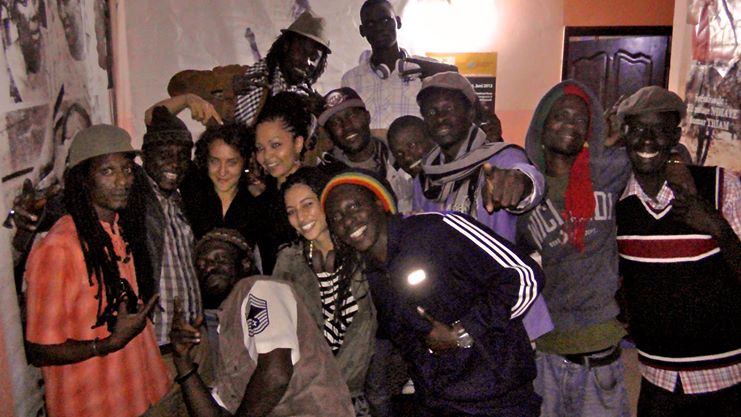 Bois Sakre family: Daara J, Afreecan Dingkelu, Prof, 1Pac, and Margaux Malya
I was horrible. So horrible it was comical. So horrible I was nervously farting (inaudibly at the very least) through the whole thing. As soon as it was over, I reflected on how a young, light-skinned girl is going to look playing the kora horribly next to one of Senegal's biggest stars and I am mortified that that girl will be me. I felt as though I could die from the embarrassment. But, 'no, I can't die because if I die this will have been the last thing I would have done.' This is all I can think of clutching my vespa that evening on the way to my next rehearsal and I drive extremely slow and safely.
I got a few text messages when the show aired, letting me know that I was on TV. I ignored them all and haven't watched TV here since. Now, in addition to jali, I've been getting called out by simply "Daara J! Daara J!" It takes me awhile to come to when I hear this, and it always makes me feel a mix of things. First, I'm so proud, honored, and taken aback to be associated with my two biggest heroes in Senegalese music. Then, I realize I am associated with them for being that girl on TV. Now, however, these slight feelings of disappointment and embarrassment motivate me. When the filming was over, Ndongo told me I had played well, to which I responded, shaking my head, "massa, massa lool" ("I'm so so sorry"). In that moment, I realized that people here see something in me that has yet to arrive. It is already so special to see a woman playing the kora. It is also remarkably special to see a light-skinned person playing kora. But the two? And then for that person to play well? The significance is so large that I can't even fully understand it, let alone articulate it, myself. But the honor comes with pressure, and anytime I disappoint I realize just how much I have to live up to. I must match the pre-conceived eminence people see in me with my playing. My work is cut out for me.
Until soon,
Althea
P.S. Check out some of the artists I've been working with!