In this episode, brazilian percussionist, band leader and music educator Adriano Santos discusses growing up in Sao Paulo, studying with Ron Carter, and the importance of versatility and musicianship. Listen on itunes!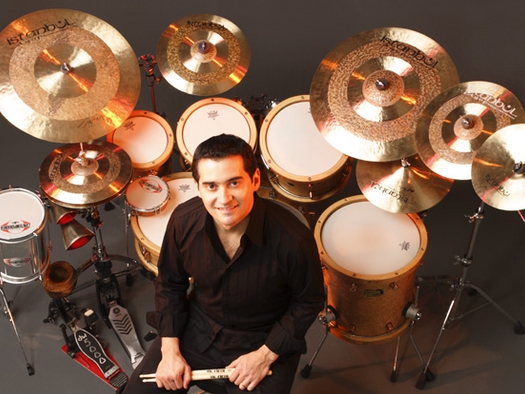 Adriano Santos was born in São Paulo, Brasil in 1966. Part of a new generation of Brazilian drummers, he began his drum studies at the age of twelve at Zimbo Trio Music School ( CLAM) in his hometown. In 1988 he moved to Boston to study at Berklee College of Music where he acquired his B.A. in Film Scoring. Moving to New York in 1995, Adriano started his Masters Degree at City College of New York where he had the chance to enjoy ensemble lessons with the great jazz legend Ron Carter. As a professional he has performed with top international artists such as Astrud Gilberto, Gal Costa, Leny Andrade, Luciana Souza, Romero Lubambo, Helio Alves, Claudio Roditi, Nelson Faria, Leo Gandelman, Paulo Moura, Jovino Santos Neto, Nilson Matta, Jared Gold, Yotam Silberstein, Ray Vega, David Binney, John Pizzarelli, Slide Hampton, Harry Allen, Bill Charlap, Cliff Korman, Santi Debriano, Hendrik Meurkens, Dave Pietro, Vana Gierig, Eileen Ivers, Paul Winter and the Boston Pops, to name a few. Adriano is currently performing with the Vinicius Cantuária Group, Matt Geraghty Project and the Afro- Brazilian band Hãhãhães. He has also recorded "Pretty World", a project produced and arranged by the great Eumir Deodato with Japanese sensation Lisa Ono. Mr. Santos has produced publications in specialized drum magazines and has released a new book through Drummers Collective NYC (where he is part of the faculty) called, "Afro-Caribbean & Brazilian Rhythms for Drum set". Adriano is endorsed by Vic Firth Sticks, Remo drum heads, Odery Drums and Istanbul Agop Cymbals.
For more information on Adriano, please click here.
Recordings featured in this episode in order of apperance:
"Contemplacao" from Adriano Santos's album "In Session"
"A Banda" performed by Chico Buarque
"The Chess Players" performed by Art Blakey (Adriano's teacher John Ramsay worked with Art Blakey for many years
"The Shadow of Your Smile" performed by Ron Carter
"Aviao" performed by Leny Andrade
"From the Lonely Afternoons" from Adriano Santos's album "In Session"
"Coisa Linda" performed by Vinicius Cantuaria
"Samba da Bencao" performed by Bebel Gilberto
"Brincando com Theo" performed by Vento em Madeira
"Mexe Mexe" performed by Fantcha
"Immigrant Soul" performed by Eileen Ivers
This episode of the Earfull was originally recorded on August 9th, 2013 and released on January 18th, 2014. The cover art for the Earfull was made by Hallie Bean. I'd like to thank Adriano Santos for sitting down with me and you for listening. For more information on Adriano, please visit his website at adrianosantos.com.  As always, you can find the Earfull on the iTunes music store, and also on Facebook, Tumblr, and Twitter.