Dear Internet,
First, I'd like to apologize for not updating you sooner; this holiday season has certainly proved to be much busier than I expected. The other night, I hear the familiar reggae vamp: "Daara J Family gonna start the fire, Daara J Family gonna take you higher." And, for the first time, rather than smiling and starting to dance, I think 'Oh f**********ck.' Suddenly, I am being trampled by the giant crowd of kids. I look up towards the stage, but all I could see were guards beating people, trying to control the crowd. Christmas eve, which I had spent with the guy singing on stage, couldn't have felt further away from this New Year's Day. Well, actually, I suppose it was New Year's Night. The Daara J crew had implored me to come to this outdoor arena, but being as late as I was, I couldn't find the entrance. And even if did, I wasn't sure I would have much luck getting in. Every where I looked, there were Senegalese kids from ages 6 to 30 – on the rooftops, in the trees, on top of cars. I could hardly walk. It had been a long time since I had seen a crowd this big. By the time I finally got backstage with my artist badge, a big guy had fallen on my head from a tree and I had been hit in the face by a firework – not a sparkler or a firecracker, but a big, fully realized firework – followed by kids running away and screaming. I was very lucky not to lose an eye.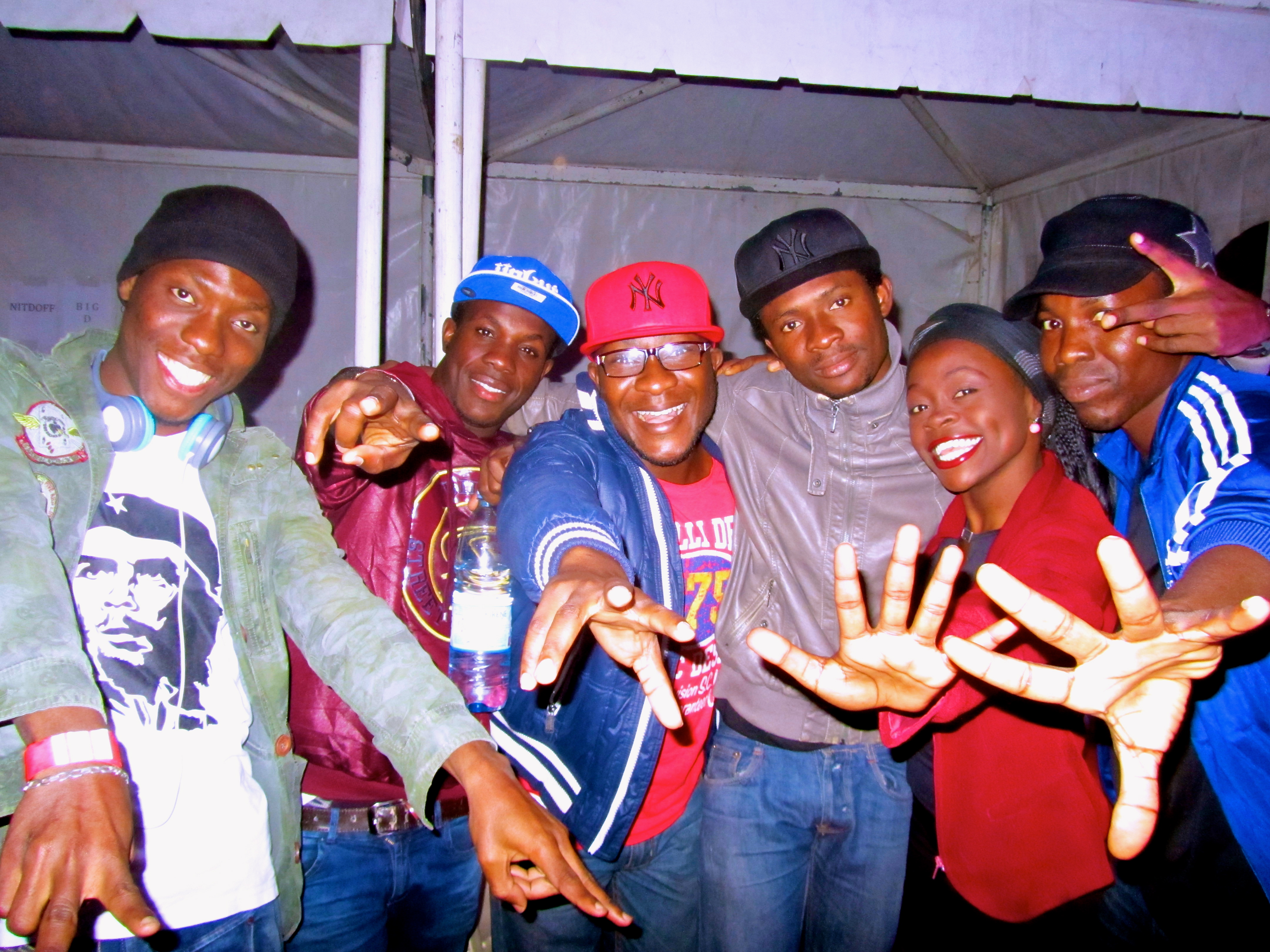 Daara J's Band
This was my first holiday away from my family. However, if no one had told me it was Christmas time, if I had not seen santas around Dakar, I would have never known. You see,  what I now know its that Christmas simply does not exist for me without my mother. Without her embrace, like a soft, cotton cloud enveloping me gently, paired with the scent of her outstanding cooking on the stove, Vince Guaraldi trio playing alongside a crackling fire, Christmas just isn't a thing.
Nonetheless, the holiday was better that I expected. Where the holidays are cold and yet bright in the States, the holidays are warm and dark in Senegal. You can hear fireworks going off all month. People party like crazy. Before leaving the states, I expected that I would probably spend Christmas alone, working, like any other day I would have in Dakar (though that is rarely what my days are like here). I figured Senegalese people, since it is a predominantly muslim population, didn't celebrate the holiday, really. However, pretty early on in the month, I began to spot tinsel and christmas lights and santas. The santas were the most fascinating. Thanks to the internet, I couldn't help but note fox news anchor Megyn Kelly insisting that santa was a white man. The santas in Senegal may just be her best defense. Rather than just sporting the normal red and white outfit and long, white beard, many santas here actually sport the same rubber mask that, along with the beard, also comes with a white face. It's spectacularly creepy.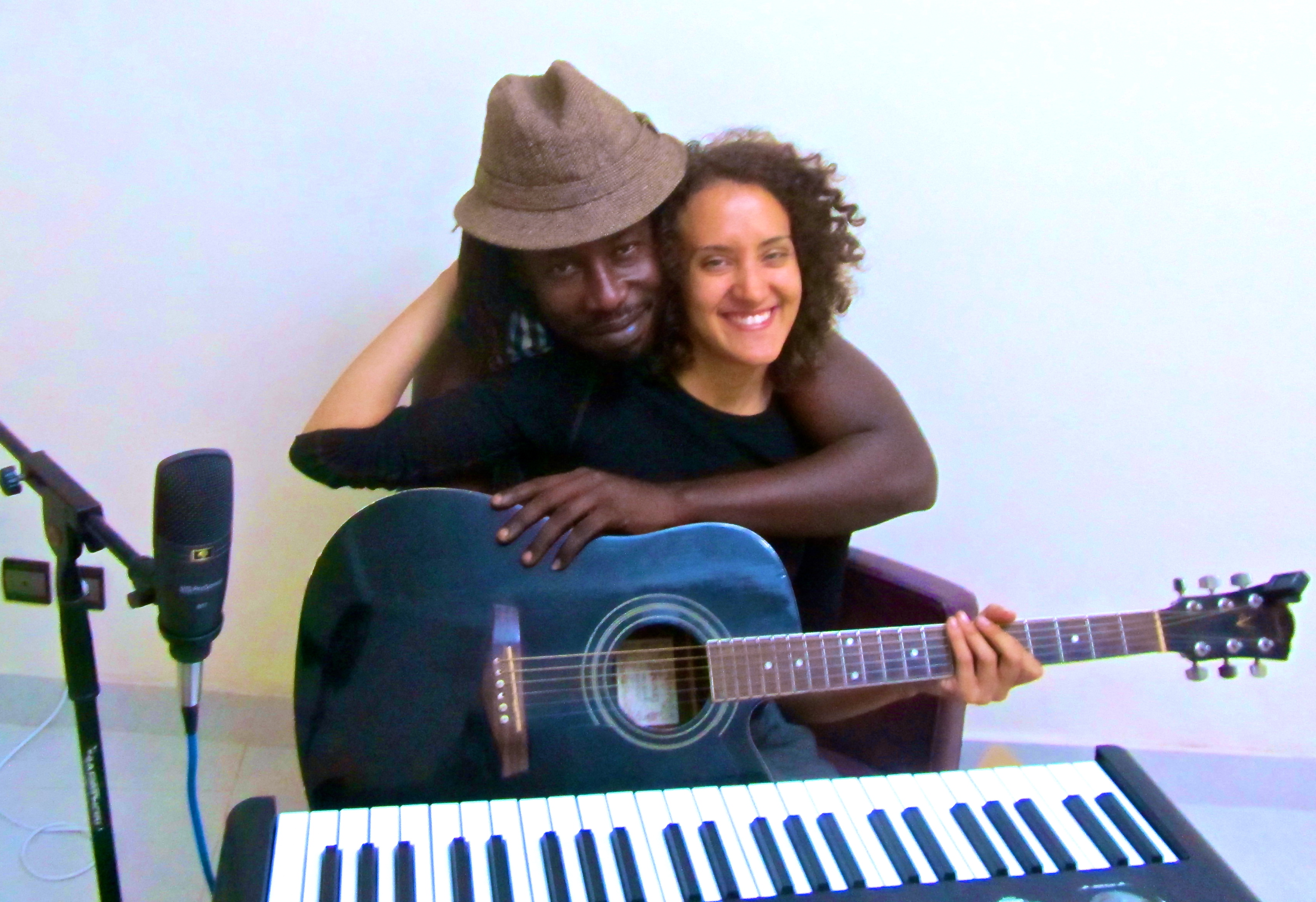 In the studio rehearsal space
Come Christmas eve, I was at Bois Sakre with my kora, sipping on Cafe Touba (spiced black coffee – half the cup is sugar alone) with the other musicians and technicians at the studio. I sit down with Faada and we sing a bit. His phone rings and he tells his wife that he will pick up fruit in an hour or two. "All the musicians are coming over to my house for dinner. This group has yet to come to my house – would you like to join us?" The next thing I know, I find myself in front of a giant plate of fries, the only woman sitting at the table, surrounded by musicians, Faada, one of my musical heroes, to my right. Faada has a beautiful family – him, his wife, and his 4 children: 3 girls, 1 boy. The 2 older girls love to cook and are serving the group like professionals. Everything is beautifully presented and equally beautifully taken away. Once the meal is done (at around 2 am), Mo Fia and I go the party of a good friend of mine, a well-known rapper named Nix. His family members, numerous and ranging in age from 6 – 90, are all there getting wasted and dancing into the wee hours of the morning. This level of partying proceeds every night through new year's, which I spent mystified by the constant display of fireworks on a rooftop of a french friend's home overlooking the Atlantic Ocean, surrounded by a diverse group of musicians jamming.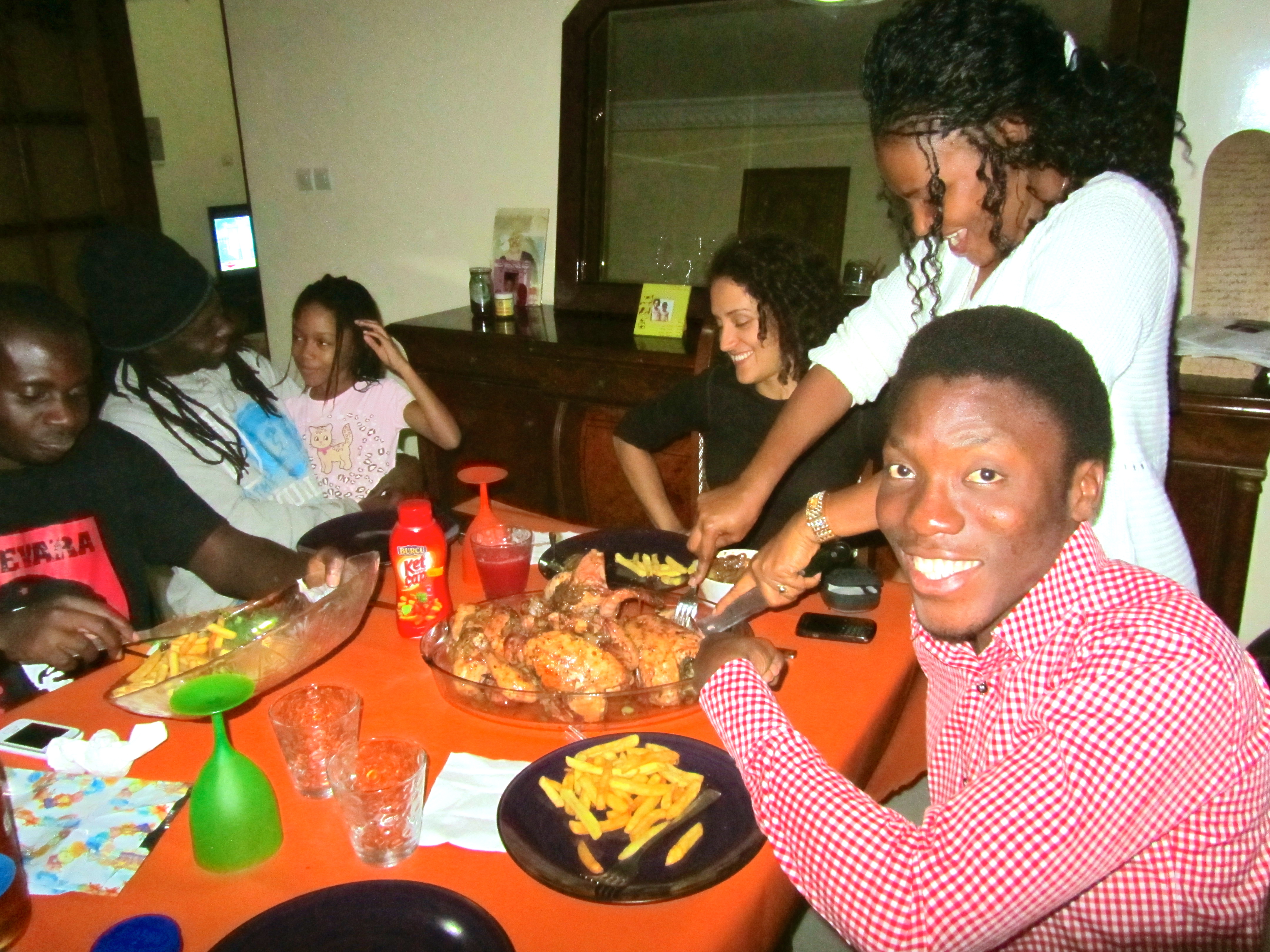 Christmas Eve Dinner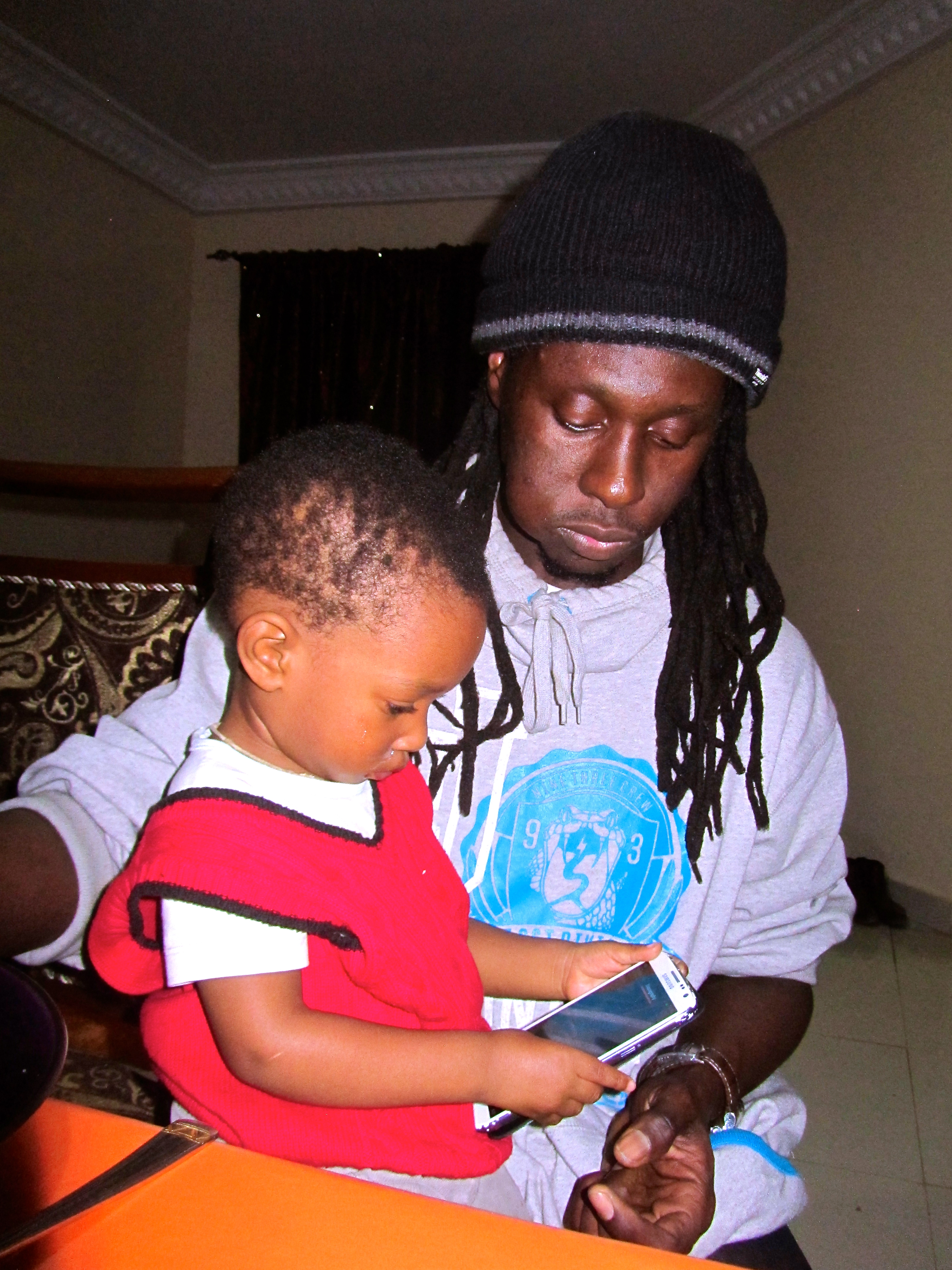 Faada and his son
While I did get work done these past two weeks, recording often and working on some grant proposals for the archives, I also had a fantastic time watching all this celebration play out. I love going out in Senegal, often dancing to reggae music. When I go clubbing in the states, it's so hard for me to find a good club where I enjoy the music and can dance freely. If the music is good, I often can't really afford to be there. If the music is bad, it's usually really bad and ranting about bitches, hoes, drank, thugs, sex, drugs, money, blah blah blah; a culture that's been been nourished with empty calories, down to the root. In Senegal, I dance to messages of freedom fighting, loyalty, justice, truth, love, peace. The entrance at these sound systems, which I often don't have to pay because I'm a musician and musicians just get in for free, is often negligible anyway. Big, hefty beers, are a dollar.
However it all comes at a price of one big contradiction. While, in the states, there's so much about popular culture that feels negative to me, I can go out and feel generally safe – whether that safety is an illusion or not. In Senegal, I can dance to all these wonderful ideas and yet know that, for me as an individual, they aren't necessarily applicable to me, certainly in regards to my safety. Just the other night, it was the guard at a sound system that grabbed me by the arm and demanded that I come see him before I left. That would never happen to me in the States. The people I have no choice but trust, can be the ones that turn on me the quickest. You can never to be too sure, but I do feel as though I have found a nice web of protection amongst my friends here, alxamdulilaay.
Now that it's January, however, I'm looking forward to really getting down to business.
More updates soon!
Much love,
Althea