"Danu Fecc!" means "We Dance!", scroll down for gallery
Dear Internet,
I've had yet another interesting week in Dakar, here is how it began:
"Do you see freedom?" Mo asks. We are sitting in my apartment sipping on rum spiced with dried hibiscus flowers with my roommate Tij, who is humming to the buzzing bass of reggae in the background. Mo's full name is Modou Uhu Conde, however he is very commonly known as "Mo Fia" (as in, 'more fire'). He often tells me Mo, or Mo Fia, and Uhu are different people. Alongside him in the street or at an underground reggae party or smoking on a balcony, you'll often hear people yell "ey – Mo fiaaa!!" To which he'll turn and say "Ey man!" and often walk up to the person, whether he is familiar with them or not, and shake their hand. These things happen because he is a very well known producer at a studio in Dakar called Bois Sakre. He has served as a father figure to many rappers here and is most notably one of the unseen members of Daara J Family (the main performers consist of rapper Ndongo D and singer-songwriter Faada Freddy), one of the most popular bands in the country. Mo is a tall, dark, majestic and wise looking man. There is a certain transcendence about him.
I pause for a moment. "Do I see freedom? Well… no. No one is really free, right? True freedom is anarchy, no?" "Hahaha – you're right! True freedom is anarchy!" he says, giving me a high five, "And dancing!"
This week was rife with dancing, and by Mo's definition, freedom. Just moments after saying this, Mo pops out of his chair with Tij and begins bouncing and swaying to the reggae music. People go crazy for reggae music here. Reggae dance parties often don't really get started until 2 am and go well after dawn. It's one of the rare places you'll see Senegalese people really let loose (i.e. wasted) and dance, dance, dance. It's kind of mesmerizing. Mo is a frequent attendee of these events and tells me it's the only way he can truly decompress, get out of his body. "It's an out of body experiences for you?" I ask. He nods his head. I find this fascinating. The only time I've experienced or spoke about an out of body experience was when I was diagnosed with depression in 2009. It was a few months after one of my closest friends passed away from leukemia. Having just started college and finding the student body rather foreign, I had never felt so lonely in my life. The day that the therapist (free of charge thanks to the great policies at the institution) diagnosed me with depression, prescribing me the highest possible dose of xanax, I had told her that many days I felt as if my body was in autopilot and I was simply the shadow being dragged around behind it. To think that having an out of body experience could be a positive thing, the polar opposite thing, was revelatory to me. It is especially apt because dancing, and, more specifically, choreographing, has always been a major way of coping for me. Either that or making music people could dance to. So what Mo explained to me, really did speak to me: both depression and dancing can be out of body experiences; however, one is a prison and the other is true liberty.
I spend my week dancing and thinking about this. Last Friday, I took a seat in the audience at Just4U after returning from the stage. I had just played the second song I'd learned with Sahad. I've learned three songs on kora with Sahad: one each week. Thus far, I've learned them on Wednesday, practiced them with the band on Thursday, and performed them on Friday.  These past three weeks, I've played with a band, an afro-beat/jazz group, no less, 6 times in Senegal; been a soloist (improvised); learned whole, fairly complex songs in two days; and appeared in a music video (as a musician), all for the first time. I'm sitting in the audience feeling pretty proud of this. Sahad and his band are playing wonderfully, which makes me feel even more proud. I think Sahad is saying my name and smiling directly at me, but then I think that actually he's probably saying "Alfia," the wolof word for liberty. Next thing I know, I'm singing and dancing to a salsa break with the rest of the band. It seems dancing isn't just a part of everyday life, it's a way of life.
Dancing isn't always a physical act for me, however. I often feel as though I'm dancing when I engage in conversation. There's the everyday choreography of wolof (for example, with my local boutique (tiny bodega) man a typical conversation will consist of "Aasi!" "Asan!" "Naka mu?" "Jamm rekk, alxamdulilaay, yow nag?" "Mangi fi rekk, alxamdulilaay, naka suba si?" "Ey, jamm ag jamm. Yow, sa yaram jamm?" "Waaw, waaw, alxamdulilaay, yow nag?" "Waaw, maangi fi, alxamdulilaay, naka affaires yi?" ("Aasi! [my wolof name]" "Asan!" "How are you?" "Peace only, thanks to god, and you?" "I'm here [in peace] only, thanks to god, how's your morning?" "Ey, peace and peace. And you, you're in good health?" "Yes, yes, thanks be to god, and you?" "Yes, I'm here [in peace], thanks be to god, how's business?") and so on and so forth several times a day until finally I tell him what it is I'm looking for.)
However, the more strenuous choreography is that of debate. Because Senegalese are so polite and anti-conflict, one must begin and end their responses in a certain way to indicate that there is no intention of fighting there. I remember this sorely trying to avoid an outburst when engaging in my first conversation about homosexuality here since 2011. Sahad, Manon (a french flutist, percussionist and back-up singer in Sahad's band), two of Sahad's friends and I had decided to pack up our instruments, grill, some dried fish, fruit, and pastries in a car and head for the beach. Sitting amongst the rocks, I played a song I had written about Vito Russo, a powerful gay rights activist and author primarily active in the 80s that had inspired me immensely. Sahad asked what the song was about and I told him just that. "Estce-que tu penses que la honosexualite est normale?" ("Do you think homosexuality is normal?") "Bien sur." ("Of course.") I respond. "Ah, mais non!" One of Sahad's friends exclaims. We go back and forth for a long time. I spend much of it explaining that if one truly believes in liberty, they must be advocates for liberty for all people, otherwise it means nothing. I also try to help them gain a more empathetic perspective by saying that the way they are talking about gay rights is very much like the way some white people spoke about rights for people of color in the United States. However, without the support of white people, it is unlikely that civil rights for black people would have ever come about. Manon tells me that she agrees with me and that she has a lot of respect for me for speaking up, however I can see in her eyes that she knows it's a loss cause. To my dismay, she's right. One of Sahad's friends thinks homosexuality is simply wrong. He doesn't think people should hurt homosexuals, but he does believe that it shouldn't be out in the open (you know, for the children). Sahad says perhaps it could be more open but they shouldn't have the power to marry – that is simply to sacred. The second of Sahad's friends tells me that it will come – one must simply be patient. In order to continue tangoing with these guys, both in debate and in the rest of my time here, I know I must bite my tongue. I tell Sahad and his first friend that their opinions make me sad and that I hope that they will change their minds, but at the very least I hope that when the movement for gay rights does arrive in Senegal they will do the right thing. I tell his second friend that he is made me optimistic.
Later, I'm playing a song I wrote on guitar in Mo's studio. He says it's beautiful – it's a love song, no? What man was lucky enough to have that written for him? I give him a pensive look and then stop playing and tell him, no I can't tell him. He says "Ah – why? Be freeee – you can be honest with me!" I give him another funny look and then I say "I've never told this to a Senegalese person and I am afraid of what you might think. I think I'd rather you didn't know." He says "c'mooon try me." So I tell him that the song was actually written for a woman I had dated for awhile. He thought about it for a second and then asked me if it had just been a game with her (girls are perceived as particularly sexually threatening and they, particularly in their teens, are sometimes encouraged to experiment sexually (a bit) with women to avoid pregnancy). I tell him no, it was like any relationship I've had, man or woman. He asks me which I like best. I tell him there is no comparison between sexes. To me, they are all equal and different individuals. He pauses. "Ce te derange?" ("Does that disturb you?") I ask. He shakes his head, "no, no, no." "Questce-que tu penses de ca?" ("What do you think about that?") "I think nothing about it – it doesn't disturb me at all. However, if someone asked me to defend it, I could not do it because I am a muslim." he responds. "What if there was a vote on gay marriage here in Senegal? What would you do?" I ask. "I wouldn't vote." This makes me smile. It's hardly ideal, but it is very enlightened comparatively speaking amongst Senegalese people.
"Everything that I do between me and God, is between me and God. Everything I do with you – it's me and you. It's private. Nobody has the rights to that." Mo says.
"Not even God?" I ask.
"Not even God. When you have respect for someone, you have to sacrifice a lot and accept them for who they are. You have to love them for who they are avec beaucoup de liberate [with a lot of liberty]. Give everything you have. Love is too important. Someone who does not have love, can not live in this world. All you need is peace, love, harmony and unity. It's final. There is only one way. You must work hard. Because there is only one thing: freedom. That's why I say be free with me. " A few moments later we're up and dancing again.
Until next week!
Much love,
Althea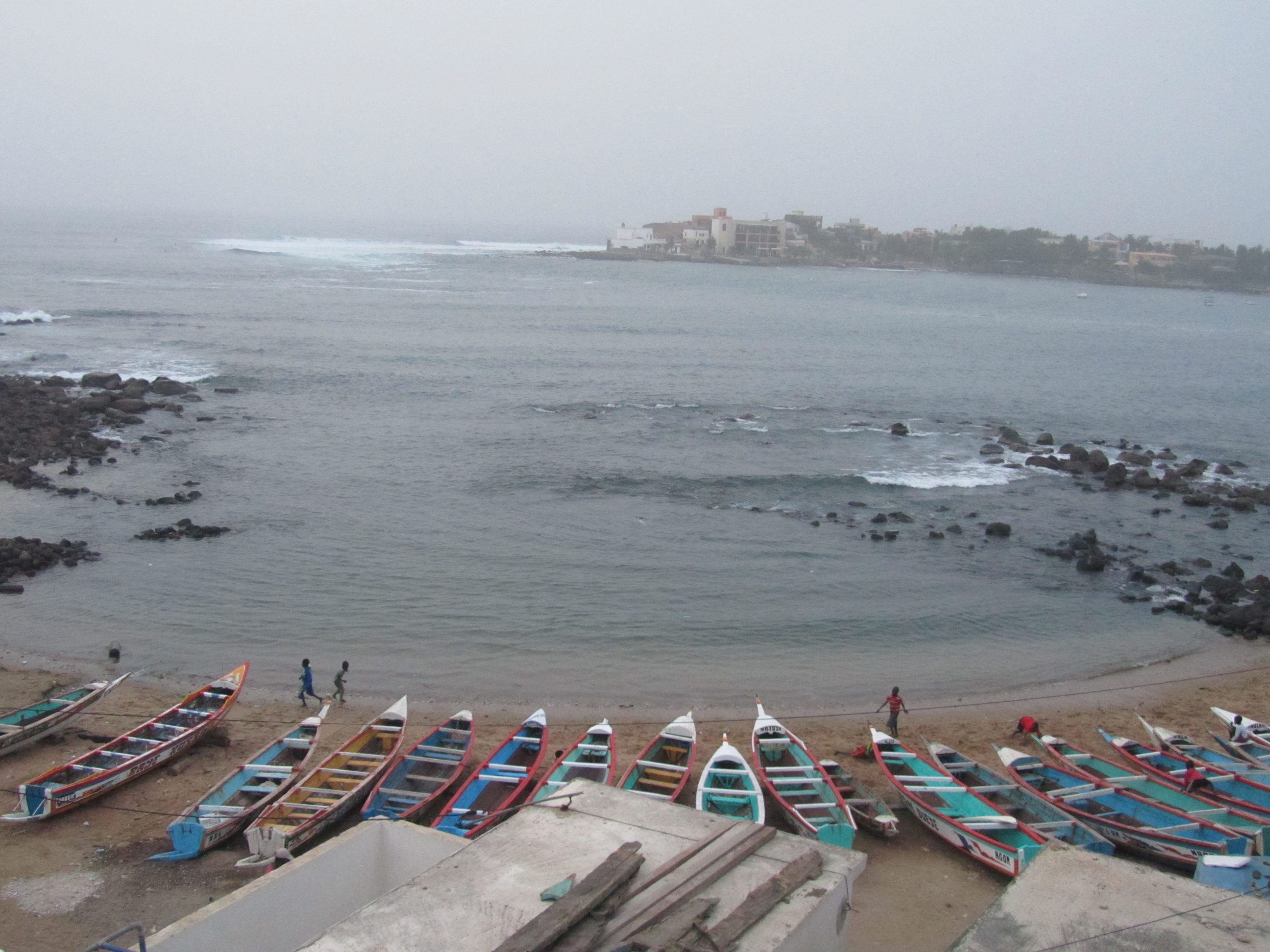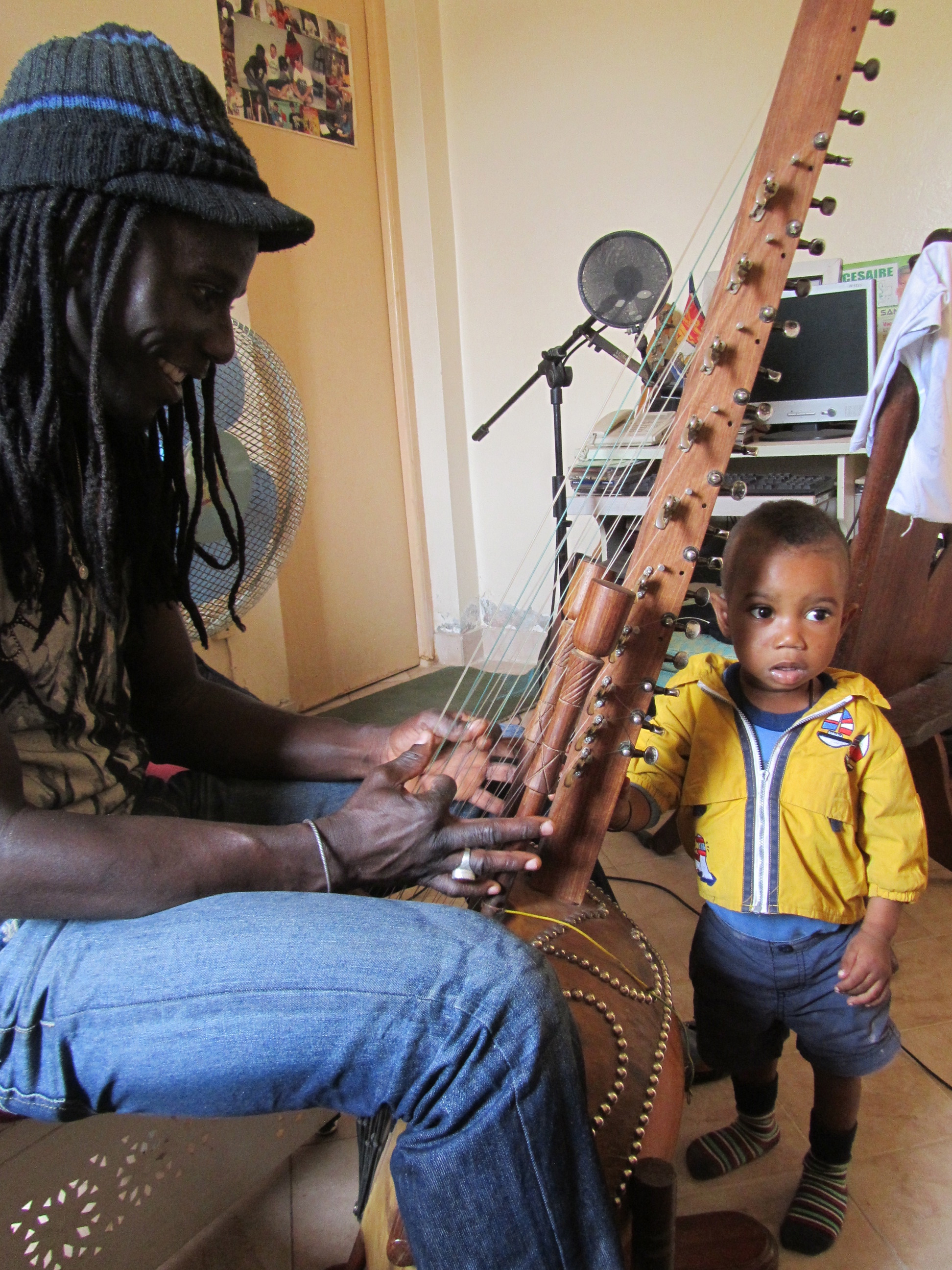 My kora teacher, Edou, and his nephew, future Korist, Mali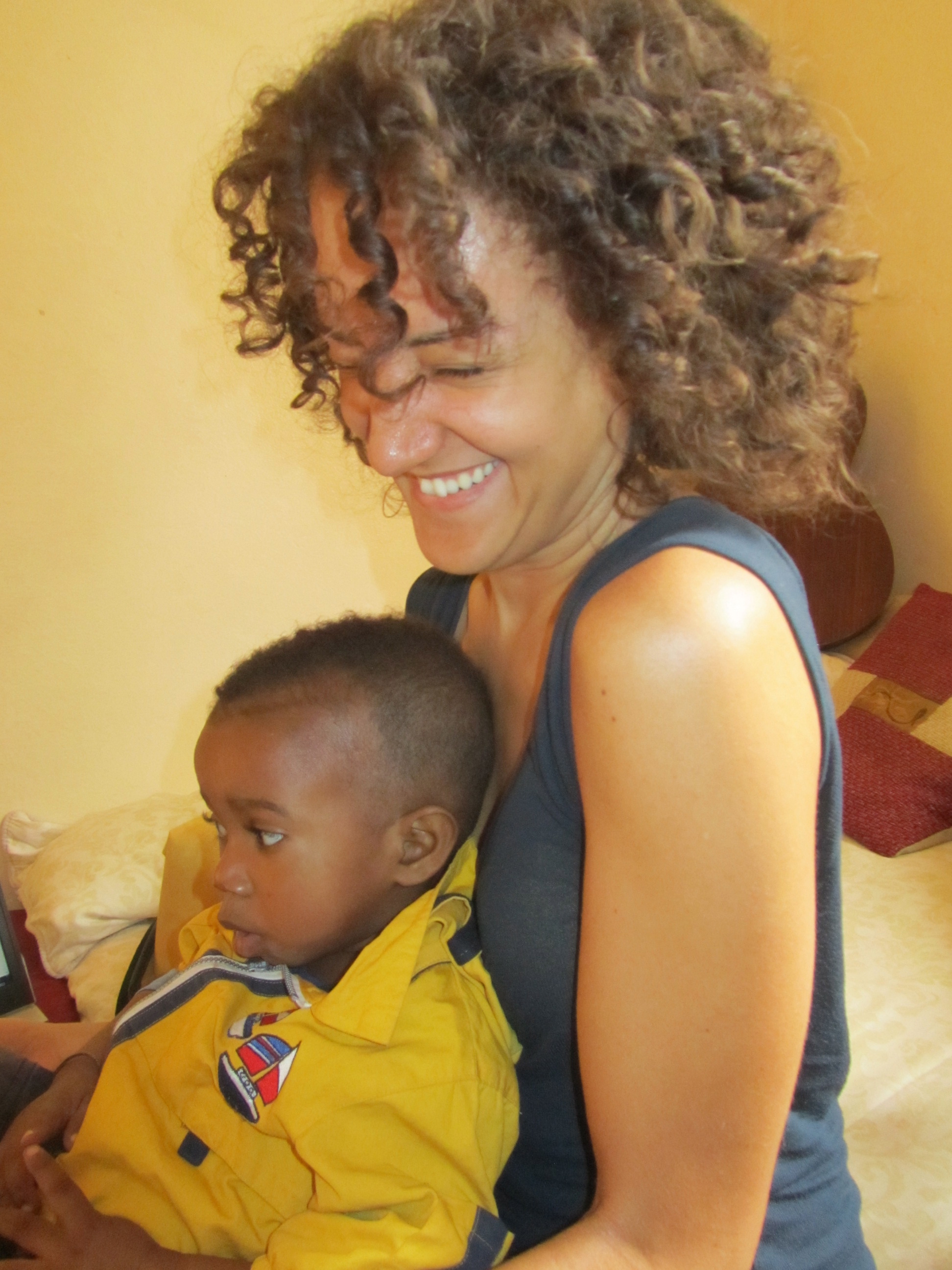 Mali and I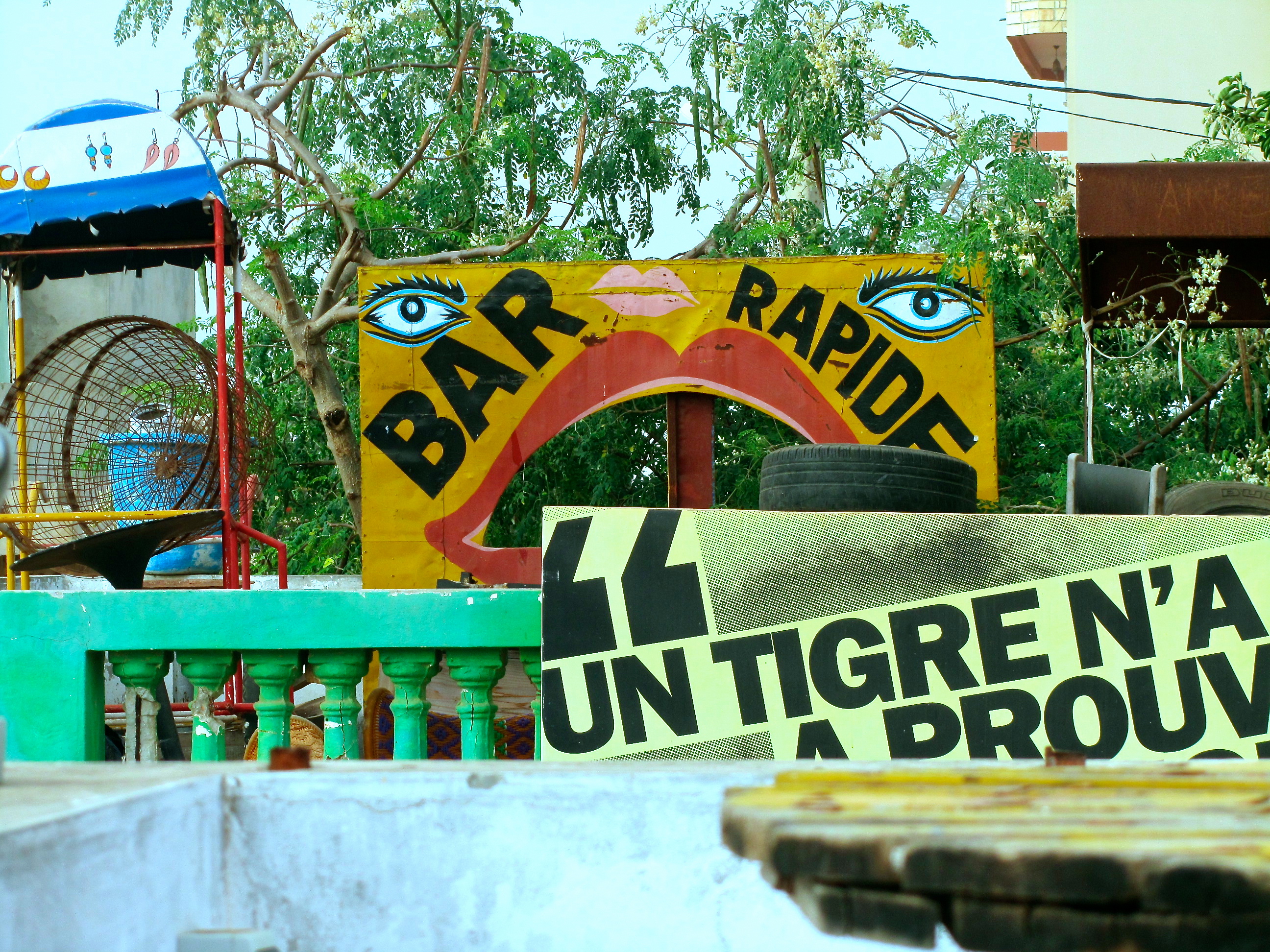 rooftop of Les Petites Pierres where I performed a Nelson Mandela tribute with Sahad & the Natal Patchwork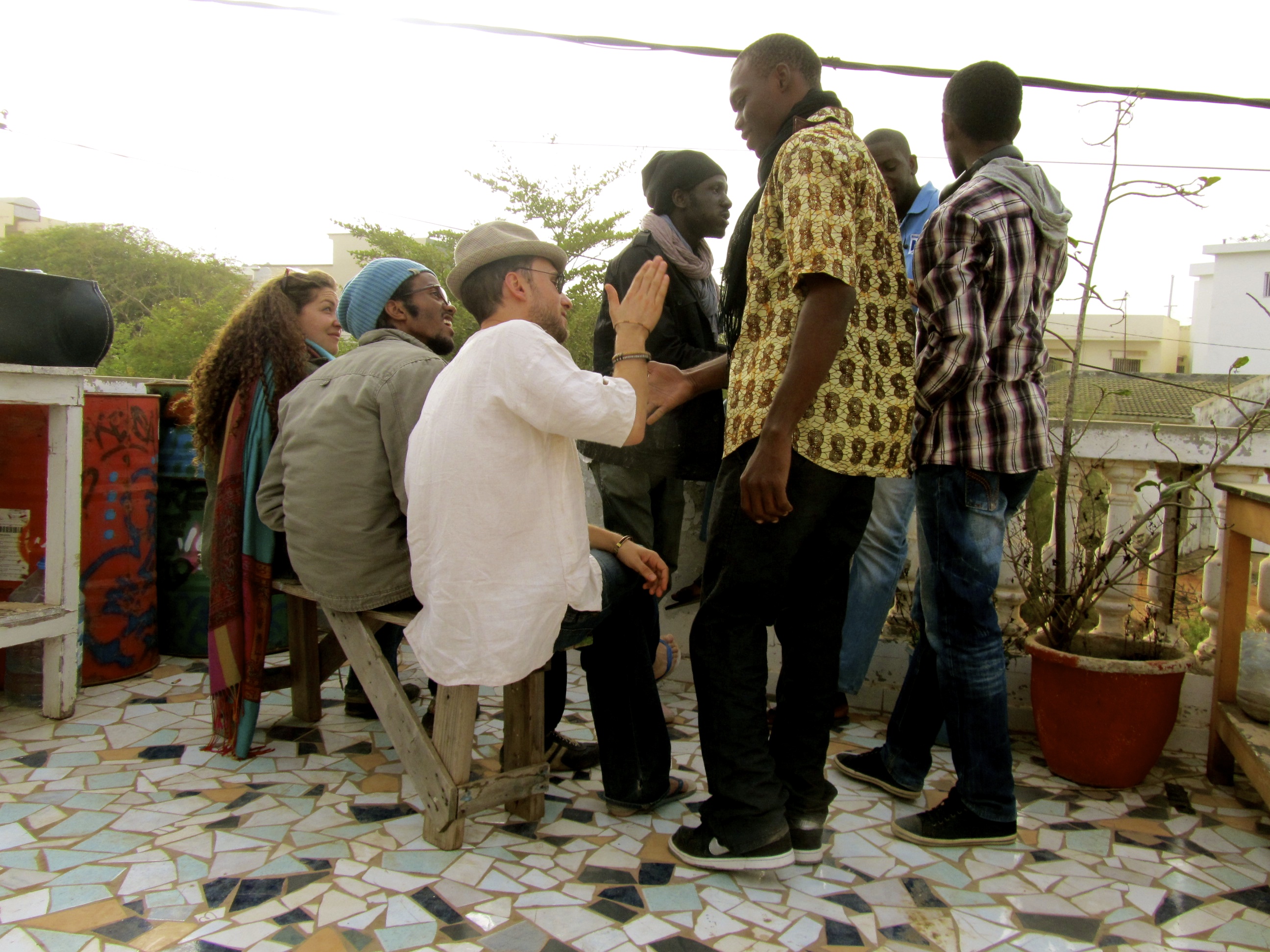 Bandmates greeting eachother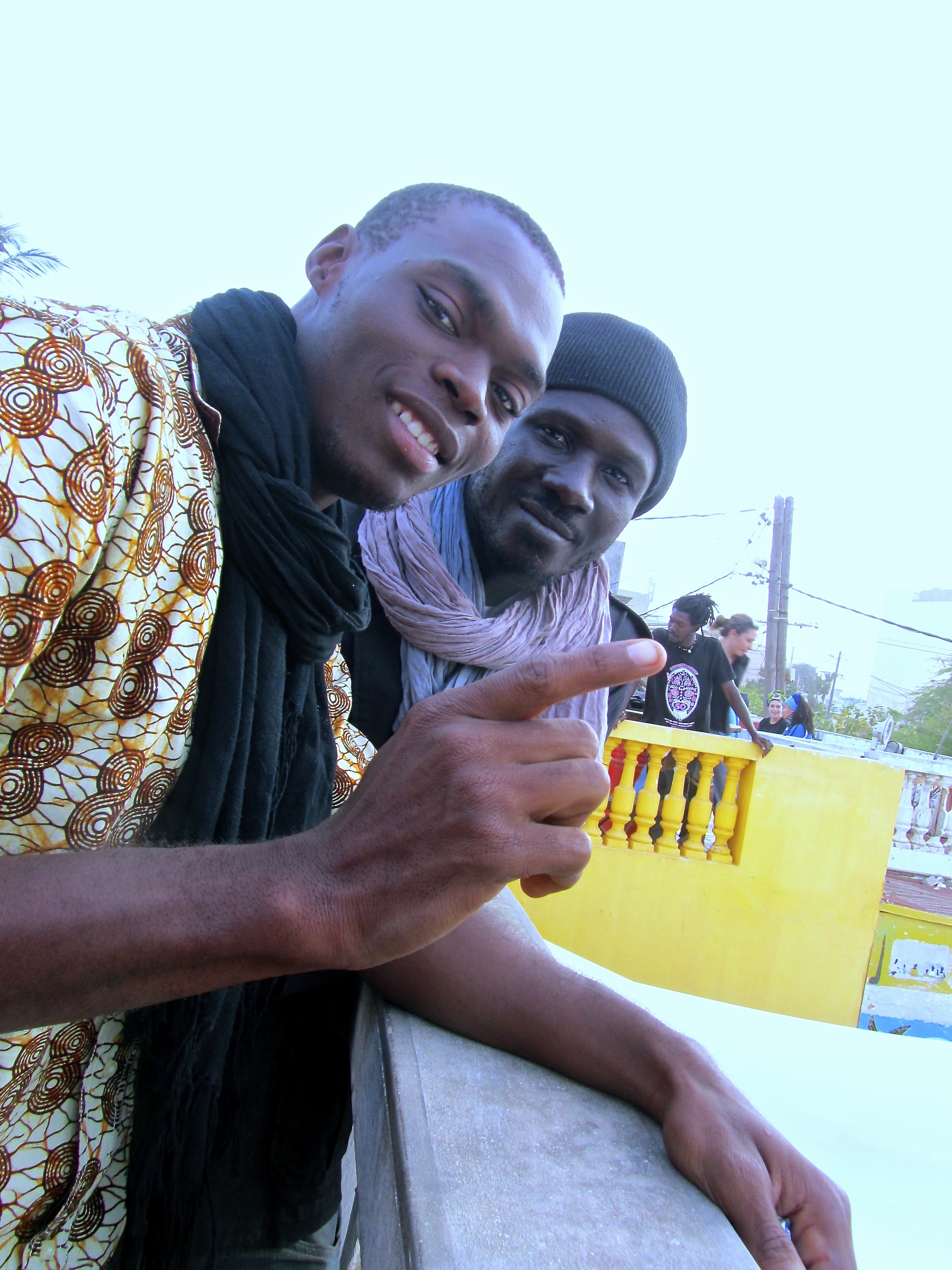 drummers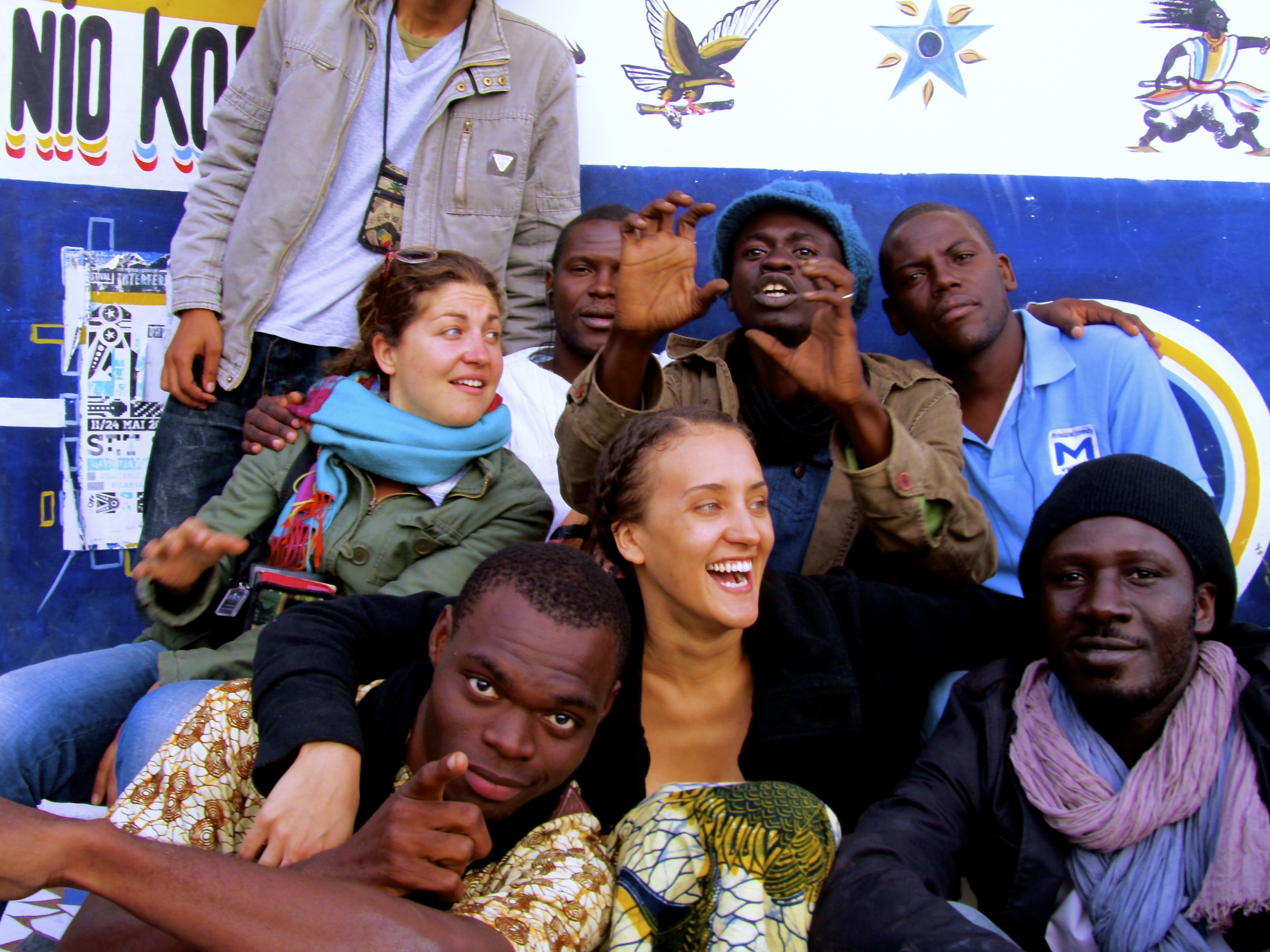 Sahad & the Natal Patchwork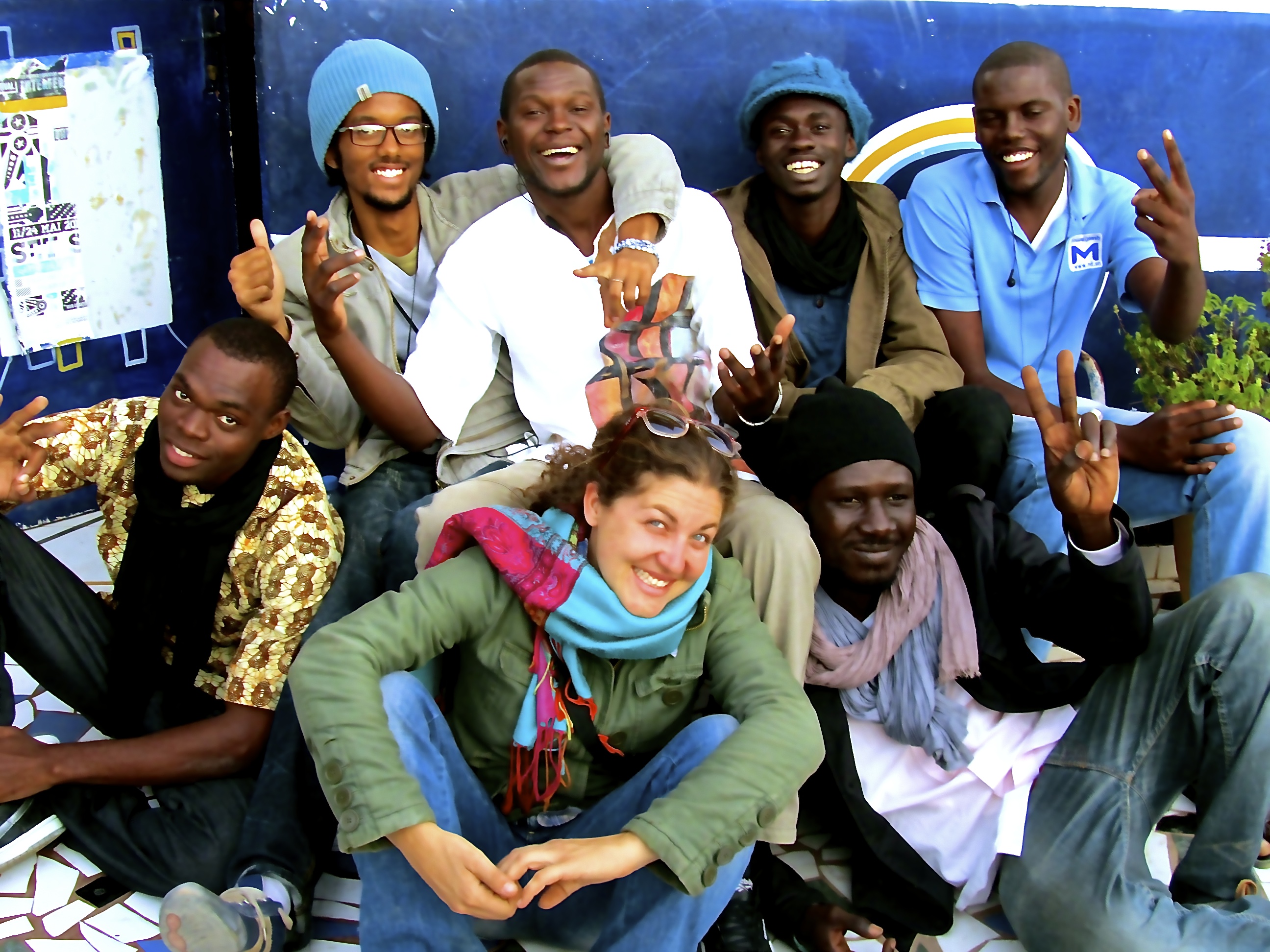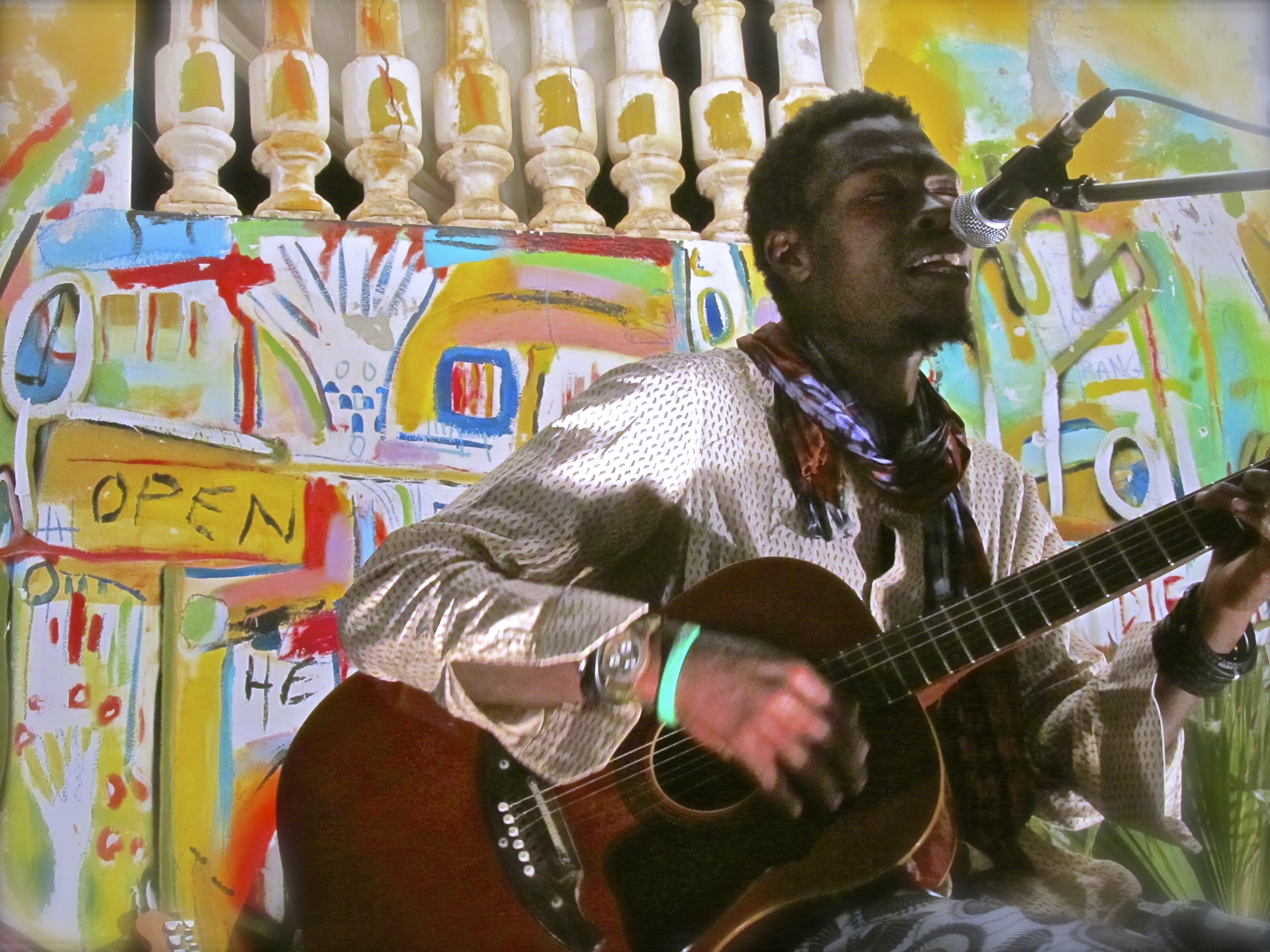 local singer-songwriter performing at Les Petites Pierres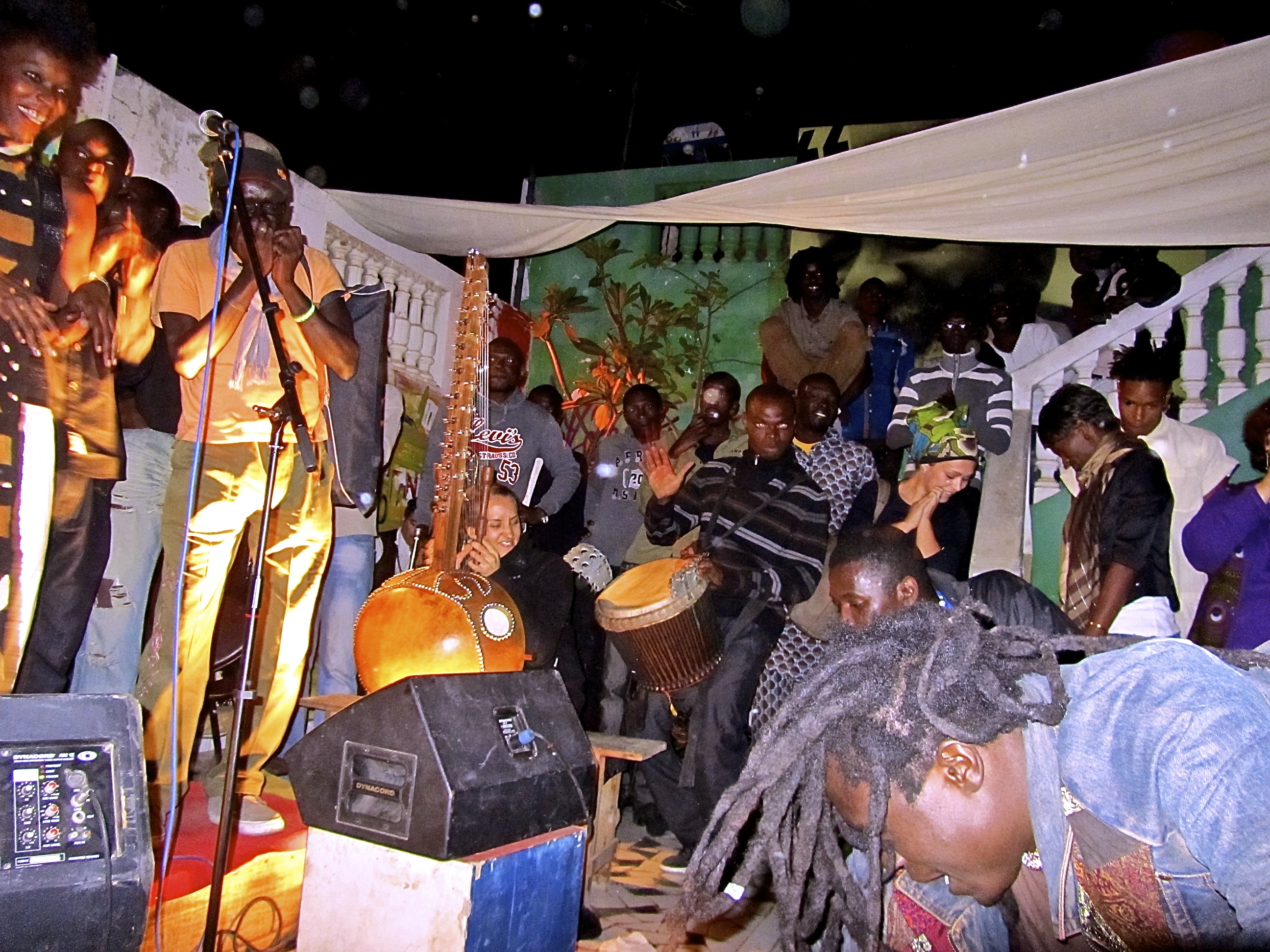 Playing at the Nelson Mandela Tribute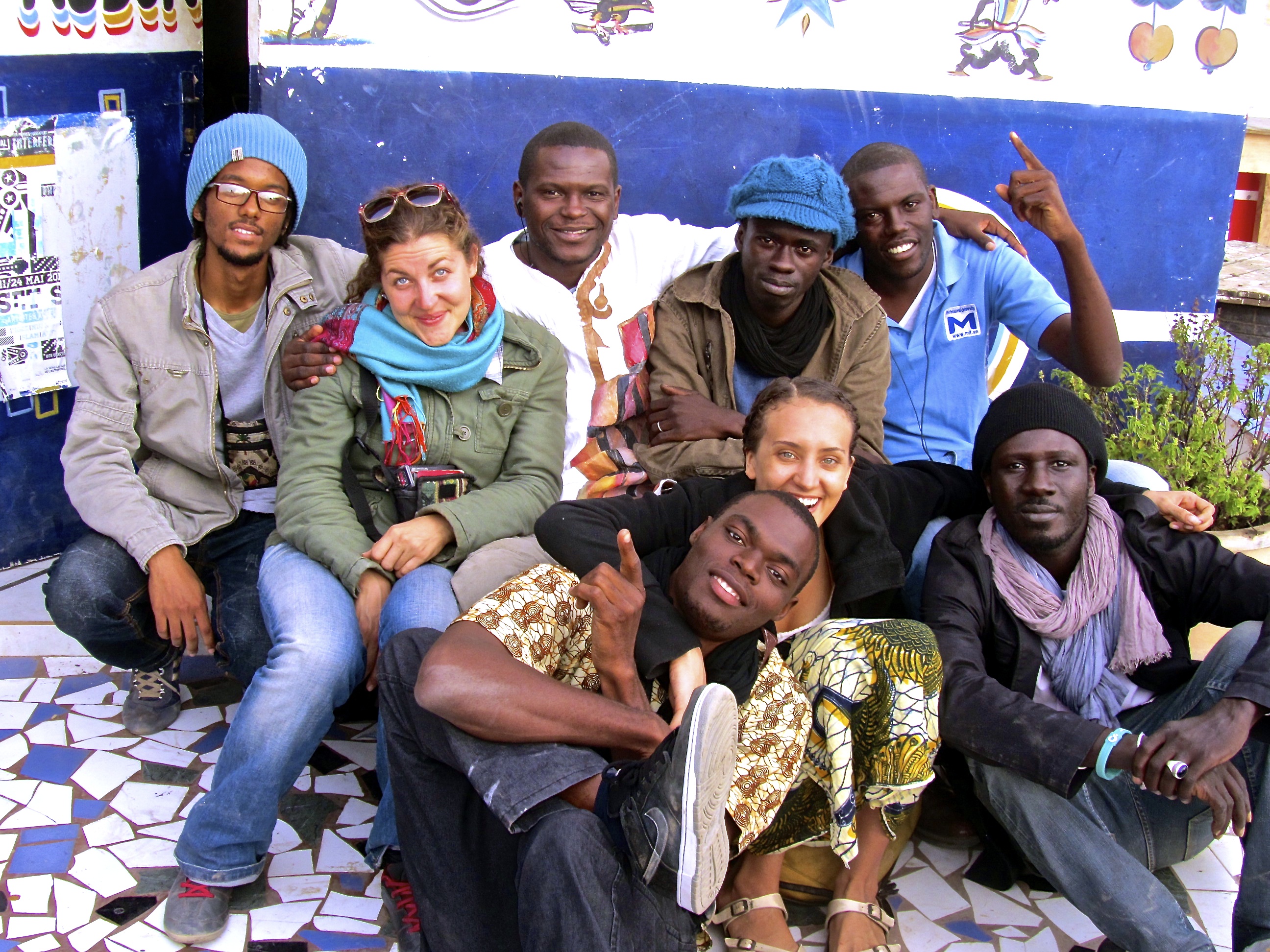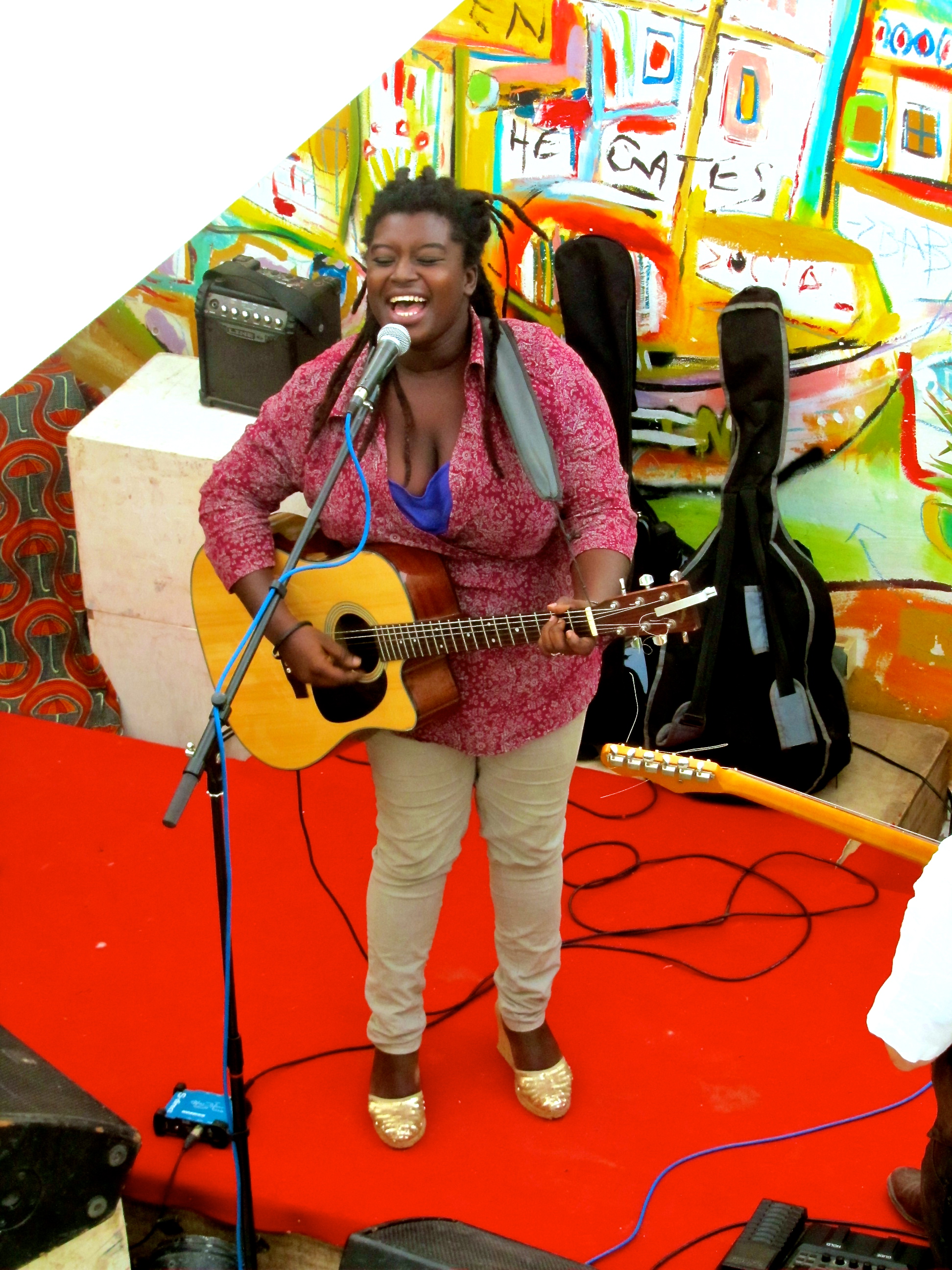 Kia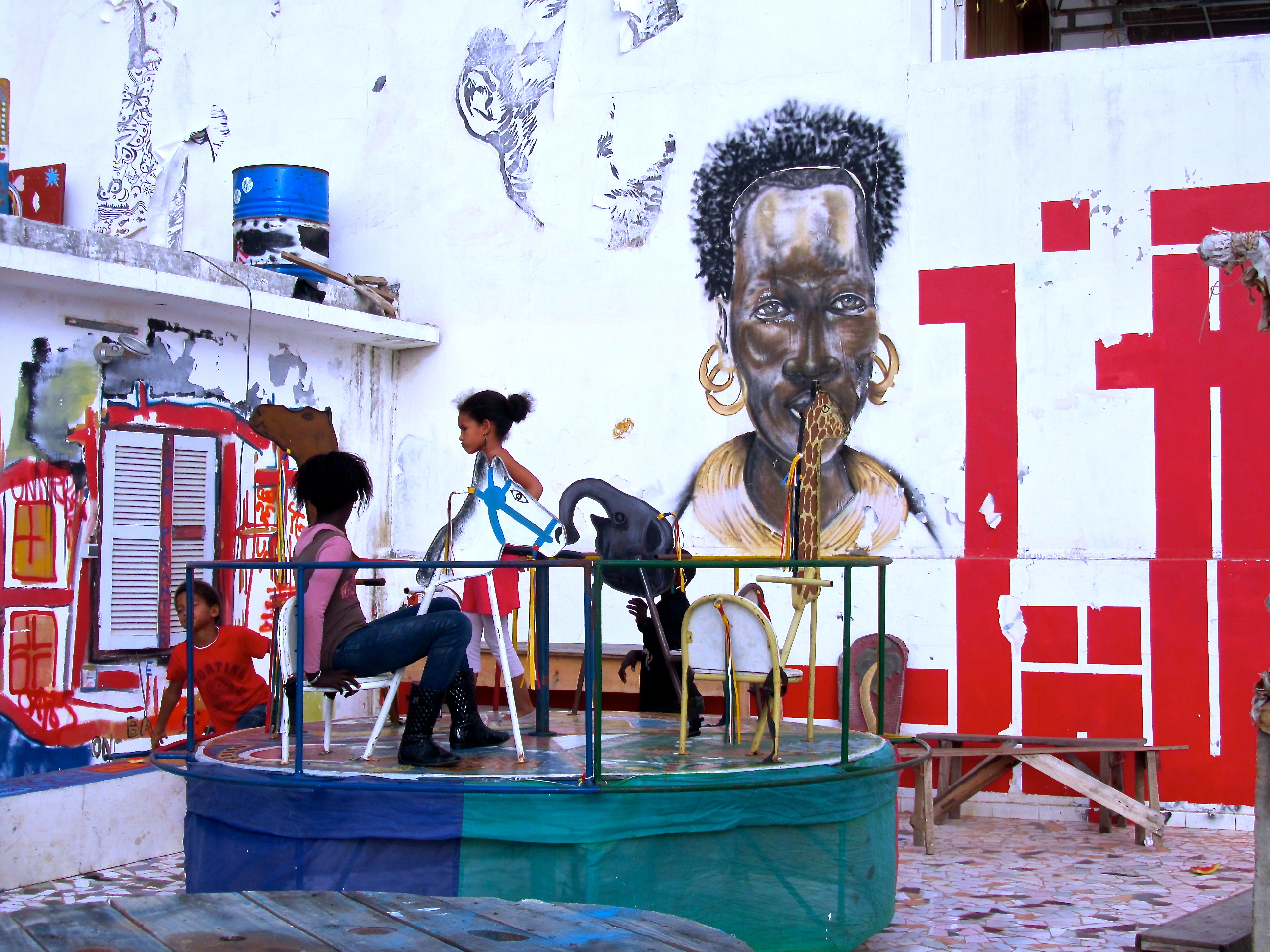 Kids playing on the roof of Les Petites Pierres
Tij and I dancing to reggae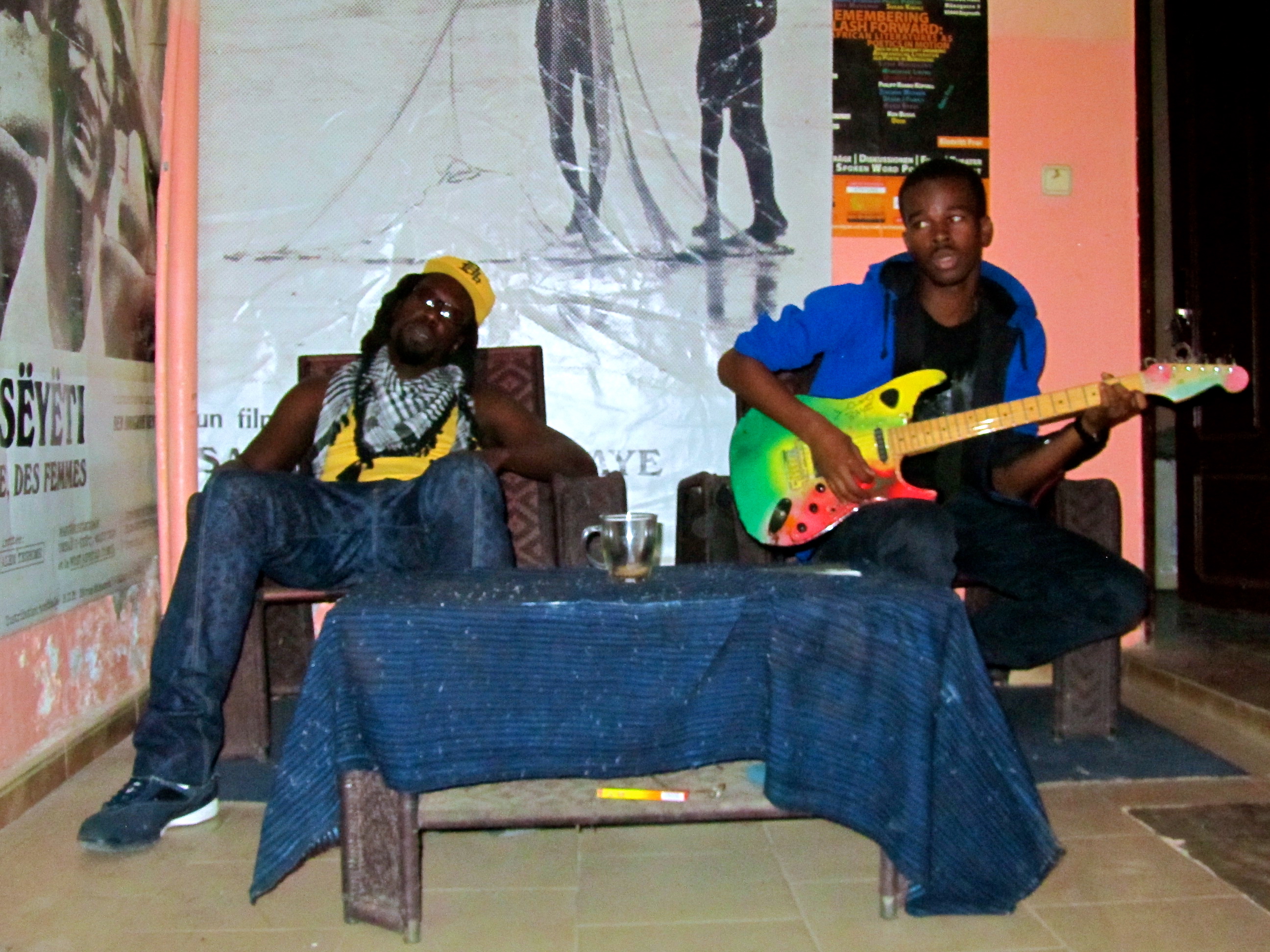 Mo and local singer-songwriter at Bois Sakre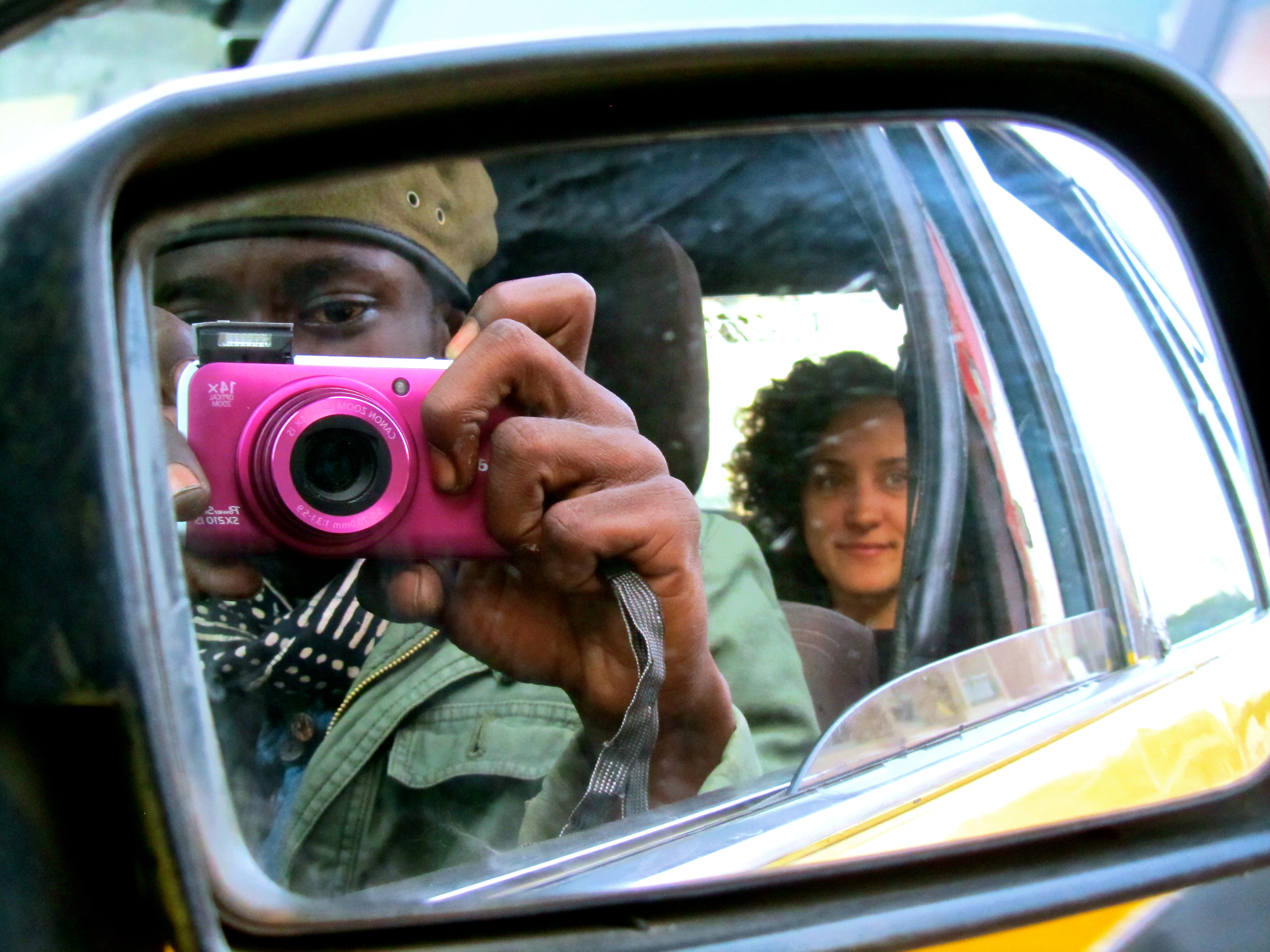 Sahad and I in a cab on the way to a show