Dear Internet,
"Il n'y a rien pour rien ici," ("There is nothing for nothing here,") Sahad said to me, explaining why I should be weary of those who seem overly generous. It was a little after midnight and we were making the trek from Sacre Coeur to Ouakam after spending an evening jamming with some friends.
The council he gave me was essential, especially in this second week in Dakar. Now that I am more settled in, the negotiations, both expected and unexpected, have commenced. There's negotiating prices for cabs and clothes and baskets, negotiating my budget, negotiating various living situations' security versus the cost. There's the negotiation between getting close to people enough for them to trust me, and help me with my project, versus not letting them get so close such that they think there is more to my intentions. Each is inter-personal and intimate. Each is about striking a tenuous balance. Each is an integral part of daily life here in Dakar, though one I dread.
Musicians stay up late here. Very late. Every night. 10 pm seems to be the average time one gets out of the studio, so 10 pm is like 5 pm for them – which makes 2 am like 8 pm – which is when I start getting texts about going out. Personally, I have to negotiate my fatigue with my desire to get things, like making connections and recordings, done. I must negotiate between my longing for adventure and my need for security. What makes it worse is that some of the most tiring and questionable types of adventure are truly my whole reason for coming here – recording the stories and music of musicians around the country often requires some difficult traveling and searching in bars and clubs in the wee hours of the morning.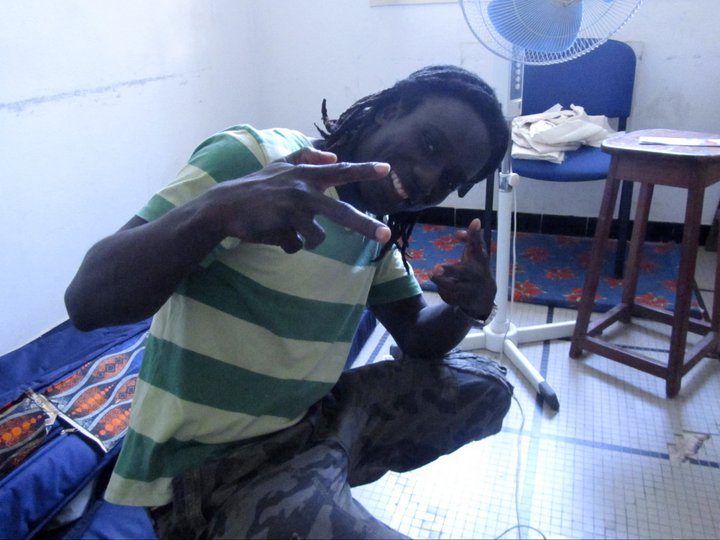 My kora teacher, Edou Manga
There is nothing for nothing here. There are some negotiations, particularly with musicians, where, unlike those with taxi drivers and basket weavers, it is the Senegalese person that seems to have my best interest in mind instead of his own. This can be far trickier because you have to judge the ingenuity of the generosity. If it isn't true generosity, what is the other person getting out of it? If it is, what am I, as the beneficiary, costing them? Likely more than they can afford. When my kora teacher, after giving me lunch, spending four hours playing with me and explaining his commitment to my becoming a strong korist, said "Daara!" ("nothing!") was the price of the lesson, I knew that this was not the case. It costed something whether I paid it or not and it was important that I did pay.
However, one value held dear as distinctly Senegalese in this society is "teranga." There isn't really a word in English that directly translates, but it's an extremely selfless form of hospitality. In one version of the West African myth "Sundiata," the future king of Mali feeds his own leg to his hungry partner on their epic and taxing journey. This is the true teranga. While I certainly don't want to end up eating someone's leg because I'm hungry, I also don't want to offend anyone by not excepting their generosity, which can be very easy to do. So, this week, I didn't pay kora teacher, Edou Managa. Next week, and every week that follows, however, I will.
Most negotiations are with myself and are due to my own ignorance, quite simply. I am not familiar with any one option, so, I must negotiate between the unknown. Even the smallest choice can become an incredibly complex internal negotiation. In 2011, the last time I was here, I had to negotiate between eating a salad or beef for dinner. Doesn't sound like much and, in the States, it would have been an easy choice to make for a life-long vegetarian. However, this time, I was in a small, rural village in Kedougou, Senegal's most southeastern provence; as far as I could be from Dakar. I had spent a long, hard day working in the fields under the beating sun with the other women and I was starving. I knew that the salad was more likely to make me sick than the beef, however, there was no guarantee with the beef wouldn't also make me sick, given that I've never had beef in my life. I've never had the desire to eat meat, so the salad was a much more enticing choice. Moreover, the salad was made special for me because they knew I was a vegetarian, which was a very kind and understanding thing to do. So I ate the salad. No less then 4 hours later I started incessantly and violently vomitting and having horrific diarrhea, unable to leave my hut because the bathroom was at least a half mile away and there were some animals fighting outside my door the whole night. Come daybreak, I told the head of the household that I was sick. He accompanied me as I walked 9 miles to the local clinic, though I don't remember that day at all because I was so dehydrated my brain decided to forgo memory building. I spent a week in that clinic with an intravenous tube in my arm because even drinking water made me vomit. Needless to say, I didn't eat either. Even after five days, I still couldn't get more than 15 paces without vomitting. Senegal is a hot, bustling place with many cracks to fall through, both figuratively and literally, and it's always the smallest ones that always seem to get me.
I do get my breaks from all the constant negotiations, though. On Friday, I discovered I lived only 100 yards from one of the most beautiful beaches in Dakar and decided that I would go there Saturday afternoon to relax. Walking down to the beach, I was greeted by a storm of delicate, fluttering white butterflies feasting on flowers. Looking up at the sky from the beach, they resembled snow flurries – but how much more pleasant! It made me think of the terrible cold the States is enduring right now and made me feel like the luckiest person in the world. The small stretch of beach in which I implanted myself was completely deserted. For once, there wasn't anyone to greet or try to escape. I was escaped. The water, which I remembered being freezing in 2011, was perfectly refreshing, neither cold nor warm. It was like a dream.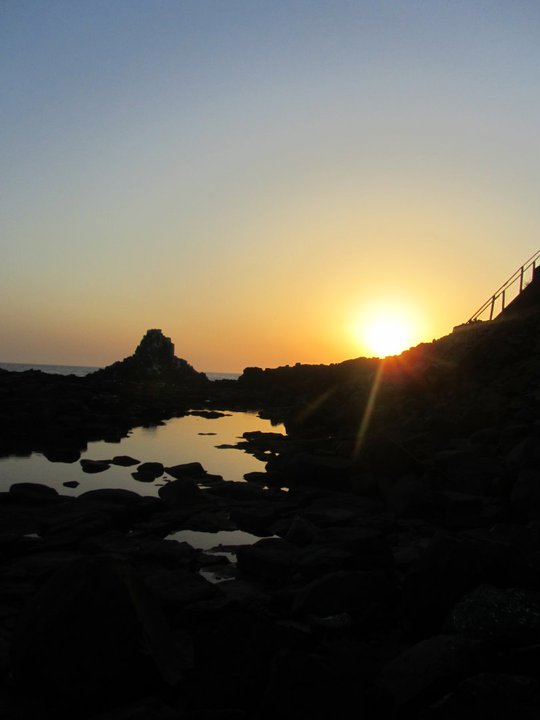 La Corniche at sunset in Dakar
Tuesday evening I went to a birthday party of a half Senegalese, half french friend and ended up with a group of people I dread the most here – ex-pats. Fine as individuals, dreadful as a group, and more often than not they are in a group. My friend, Yann, has been in Dakar for 10 months and there wasn't a single Senegalese person there apart from my roommate, Tij. Tij said to me he doesn't even really count – he doesn't speak wolof very well and he doesn't even believe he's a Senegalese person (the country lines are imaginary, etc.) At this birthday party, held at l'Institut Francais, no less, I spent the first hour and half talking to no one, really. The girls sitting next to me didn't acknowledge me when I tried to speak to them.  When we were leaving the restaurant, Yann drunkenly yelled at the waiter. I had to go up to the bar and say "Massa" (a true "sorry", as opposed to "baal ma" which is more like "excuse me" and more commonly used in Wolof) to the waiter afterwards. These sorts of the things would have never happened if there had been Senegalese people there.
What made the evening worth it was seeing Yann's apartment (well, it was really his mom's apartment), located truly in the center of downtown and utterly impeccable. It was like walking into a scene from breakfast at tiffany's with all this chinese decor and art deco furniture. On the deck, where we situated ourselves, there was a wonderful view of the city. I could see the lighthouse, a few yards from where I'm living, from all the way downtown. I engaged in some nice conversation, even if clouded by cigarette smoke and vodka breath. Yann started calling one of the guys "ma Jigeen" ("my girl") and another started saying "non – il n'est pas une, ta jigeen!" ("no – he is not a, your girl!") Finally I said "C'est 'sama jigeen' pas 'ma jigeen'" (correcting their wolof.) "Mec, l'americaine comprends le wolof plus profound!" ("Boy, the american understands the wolof more profoundly [than you]!") French people love to talk about how arrogant Americans are and how they have no interest in other cultures, but, here, all the Americans speak better wolof than the French and tend to also have more Senegalese friends, just sayin'.
Speaking of Senegalese friends, I have been so grateful to meet the singer-songwriter, drummer, bassist, and amateur korist, Sahad Sarr, with whom I was walking in the opening paragraph. It was a treat for me to walk with him because I never get to take these kind of long walks on my own. One, it's dangerous; two, I'll probably get lost. Sahad is one of these rare people whose name fits him perfectly. When I hear his name, I think of a tuareg man from Libya, Algeria, maybe Mali, crossing the Sahara desert. The evening that we were walking, Sahad was a complete realization of this image with a black beret on his head, a loose scarf elegantly wrapped around his neck, a khaki jacket with cargo pockets, and baggy pants. I looked up the name online and found that it is meant for someone warm, nurturing, and reliable. Someone with a deep need to create harmony in their surroundings. Spot on.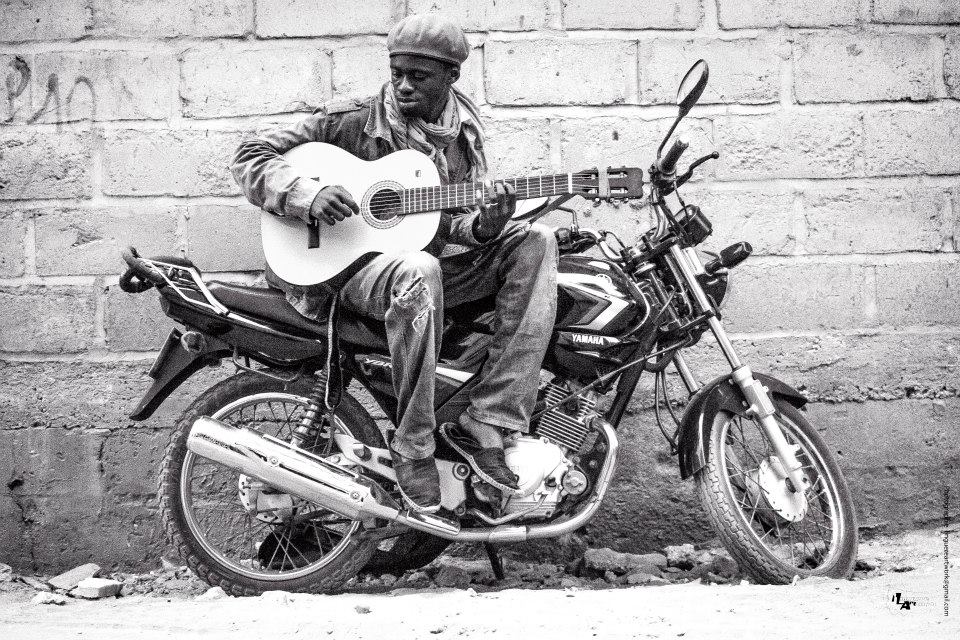 Sahad Sarr
On Friday night, I was terribly nervous to play kora with Sahad in front of a largely Senegalese group. The venue, called Just4U (which is very silly I know), is one of the more popular and certainly more expensive ones in Dakar. It's a beautiful space: the entrance's walkway is lined with bougainvillea trees which have been landscaped into a canopy of pink and purple flowers above your head. To the right, is a stage and a dinner space; to your left, there is a general seating area; and straight ahead there is a bar. There is a large wall out front, but inside, there is only a roof above the stage, the bar and the bathrooms. The seating areas are completely outdoors and adorned with palm trees. One can look up at the stars as they are enjoying the music.
Normally, when I'm playing kora at home, whether in a duet or solo, I'm concentrating so hard and I'm so worried that I will make a fatal mistake, particularly because, more often than not, I'm playing the bass pattern of the piece – keeping the rhythm and the harmony in place while others improvise. Not only was Friday my first time really performing kora in Senegal, but it was also my first time playing with a group like this where I was the featured soloist improvising. Nonetheless, opening up the concert with the band, Sahad (the leader) just told me to play anything I wanted. Already there was this openness and trust and lack of worry – it was very liberating. I started playing a malian version of a song called Massani Cisse and instantly the band (9 people strong) began to join in with all sorts of lines that really supported me rhythmically and harmonically – it was so beautiful. When I played the song I was meant to play, I was having so much fun just watching them already that I really didn't care whether I was good or not – I could just play. I think I was okay – all the guys in the band and some other Senegalese people in the audience said that I played very well – but Senegalese people are almost always overly generous.
Tonight, I'll be playing with Sahad again – this time two songs, two times. Once at the Olympique Club – a sort of country club whose stage boasts an stunning view of the ocean in the background. And then again at Just4U, where we'll be opening up for Carlou D. This is particularly special because my kora teacher plays with Carlou D. Wish me luck!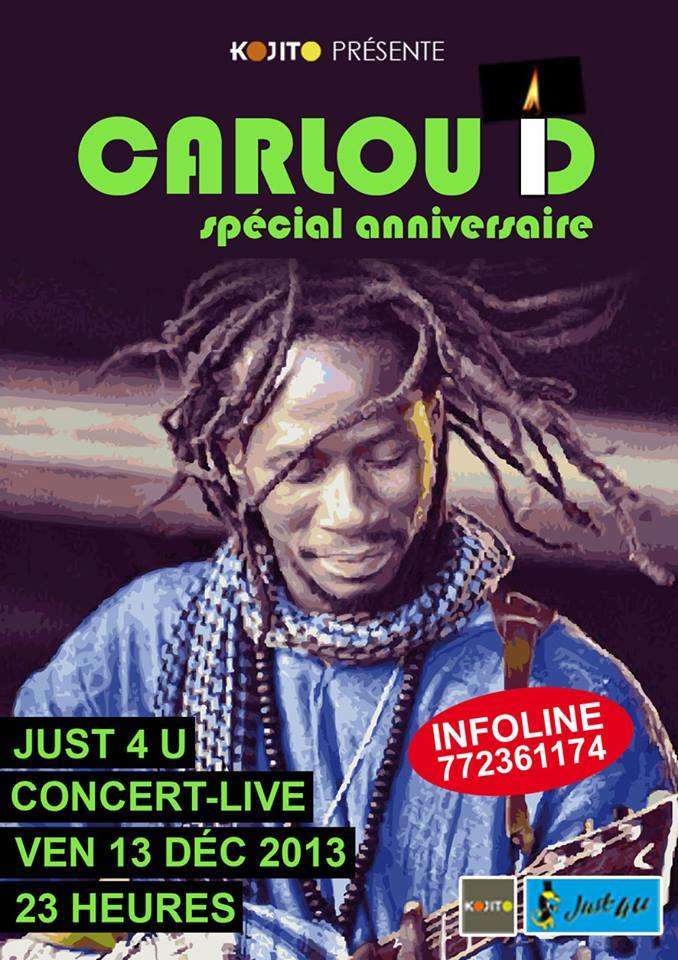 Much love,
Althea
p.s. There will be recordings that I've been making available soon!
Earlier: Week 1 in Dakar