Good Morning Internet,
I touched down in hot, humid Dakar on Saturday at 6:10 in the morning. The smells, the balminess, the language, accent, colors, fashions; all familiarly foreign – a feeling that would follow me all week.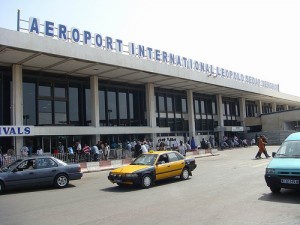 airport in Dakar with a cab (yellow and black) in front
Neither excitement, nor bliss, nor eager anticipation filled me, however – I was simply too tired to feel a thing. I hadn't slept much the night before my voyage both in preparation of my trip and in the hopes that I could get sleep on the plane and transition to Senegalese time with ease. In D.C., South African Airways asked that passengers check-in with their passport during the layover. The very nice attendant asked if I minded if he gave me a better seat, closer to the front. I enthusiastically said that I wouldn't mind at all. To my dismay, this seat ended up being situated between three babies – one in front, behind, and beside me. Sleep was not to be had. 
I expelled a sigh of relief too early upon seeing the first of my three pieces of luggage on the baggage claim conveyor belt in Dakar. It was only after I had learned that all the baggage from the flight had been delivered from the plane that I spotted the giant, aluminum case, much like a space-age version of Dracula's coffin on wheels, for my Kora (made in Montreal at Rouillard cases, which I highly recommend). However, one thing was missing: my large, overstuffed and heavy trekking backpack. It has accompanied me on trips to the white mountains in New Hampshire, the smoky mountains in Tennessee,  orphanages in southern India and my last trip to Senegal. In it, I had my malaria medication, the notebook in which I wrote down all my contacts and their information, pictures of my parents, my two most expensive pieces of equipment, among many other essentials. It took me an hour and a half, perhaps 2, to make a declaration of lost baggage and leave the airport. I was very concerned that my friend Tidjane Sow ("Tij"), with whom I had planned to stay, might not have waited for me. This was especially nerve-racking since I had been short-sighted and put all my contacts' information in my big backpack. Taxi drivers hounded me for about 20 minutes as the sun was rising. It was a small feat when one said to another, "Ah, shhh boi! Toubab degg la Wolof bu baaxa baax!" ("Ah, shhh boy! That white girl understands Wolof very well!")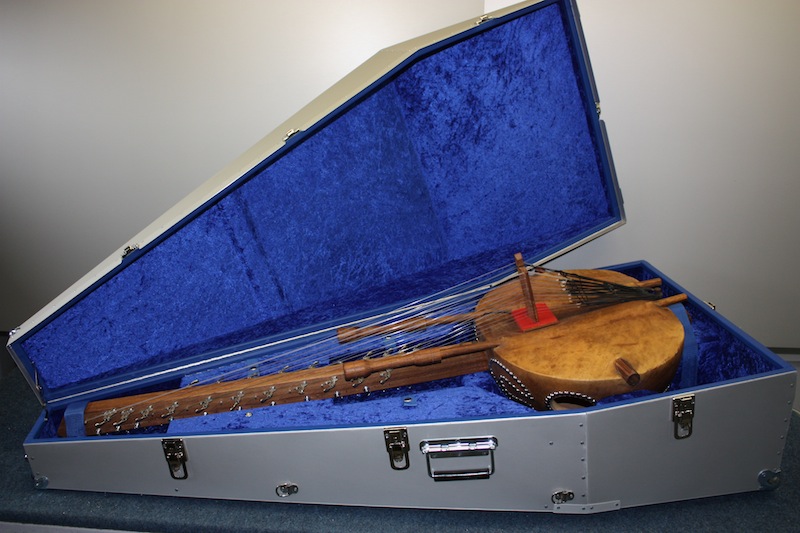 my kora in its case
Fortunately, after some time, Tij came running up to me. We loaded up a cab – my kora half sticking out the back of the trunk – and were on our way. As soon as we got home, I slept for about 7 hours. My bag was returned a few days later, not in great shape, but here nonetheless. I blame the TSA completely both for its late arrival and the state it arrived in.
This week, I mostly reconnected with old friends and teachers, who are more often than not the same. I walked around many areas of Dakar trying to reclaim my sense of direction and ability to navigate through the neighborhoods, which was harder than expected. Much has changed. Little things that are often taken for granted in the States have only recently been introduced here, giving them new meaning to me. Like traffic lights; they actually have traffic lights at some intersections now – complete with walking signs as well! It was shocking. In addition, the electricity has yet to go out where I'm staying, which used to happen reliably each day. Moreover, undeveloped lots have evolved into new, shiny buildings and transfigured my sense of the landscape. When walking in one direction in a neighborhood I think I know, the familiarity often rapidly peels away into completely foreign territory until some sign, gate, guard or landmark suddenly peeks through, sparking my old memories in these newly mysterious places
Where my memory fails, however, Senegal's memory does not. Senegal remembers me very well. My kora teacher remembers, much better than I do, how I tend to anticipate the rhythm and why. The woman selling acara (fried balls kind of like falafel, but made from a white bean, giving them a smoother texture and milder taste) knows that I will be back three days a week. My home stay mother remembers that I never bring a jacket with me when it's warm during the day and worries that I will get a cold when the nights get colder. My current flat mate remembers the way I improvise vocally and can harmonize to some of my familiar phrasing. When I walked past my old apartment, a middle-aged man spotted me in the pitch black dark from over 20 yards away asking how long I had been here and if I was living in the same apartment and was I still playing kora? Yet I did not recognize him one bit. How familiarly foreign Dakar is indeed.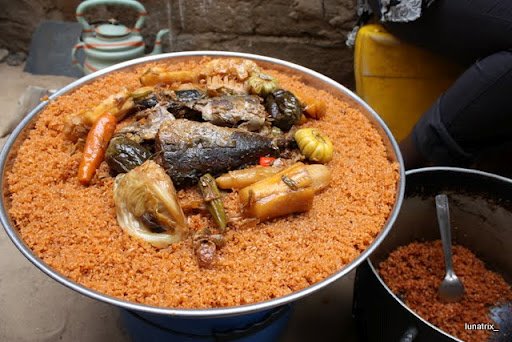 Ceebu Jen
There are a few things that have stayed the same, though. One of my favorites is the food. Traditional food here is the best food here and often comes at the cheapest price, if not no price at all; I know well that if I arrive at a familiar's home, announced or unannounced, around meal time, I will be fed some kind of Senegalese food well beyond my fill. I'm not just a foreign moocher, though – I have a fun time seeking out the local acara or ceebu jen ("rice of fish") lady in the neighborhood.  If you didn't know where to find her, you might never know as an ex-pat here. They typically have these tiny shacks or covered tent-like structures, in which they pile 6-8 people on small, shared benches and, to an outsider, it might seem like a secret club. Inside, there are many giant, hot metal bowls – one filled with rice, another with the coveted crispy rice, another with the fish, another with vegetables and sauce. The woman who cooks does a good job of covering these bowls because there are always flies swarming around these little lunch shacks. At first, it's a little annoying, but after about 30 seconds, you hardly notice the flies. When I went on tuesday, I spoke in wolof to her and the older men in the shack. There are never any women, children, and hardly ever any married men because those people are all getting the same meal at home for free. I ask in wolof if I could have ceebu jen without the jen ("fish") and she says yes, of course. It's good business for her, I suppose. The plate is about two stomachs full. I eat all the veggies and about half the rice. I save the other half for later – I figure I will cook something and use it then. It certainly is more delicious than any rice I could make.
As soon as I say "neex na," or "delicious," to the woman, she says "ah – neex na?" and another says "degg nga wolof?" ("you understand wolof?") I say "waawa waaw" ("yea, yea, of course.") And they say "ah! baax na dey" ("oh, that's very good"), laughing. I know they still don't really believe me. Making small talk, they're testing my skills. They ask if I like ceebu jen, Dakar, Senegal, Senegalese men and oh – do I have a husband? I always say no, I don't have a husband. Why not?? I don't want one! Every toubab ("white person") is endlessly, effortlessly, and delightfully charming when they speak wolof. I wish I didn't hesitate and doubt myself, though. I really do understand what they're saying, but I can see that they just think I'm a novelty, not someone with whom they can make serious conversation in wolof. As one is leaving, he says "hey, I'm looking for a wife – a white one – particularly one that speaks wolof and loves ceebu jen." I think he thinks I only half understand, which is apt, because I have no idea how to respond – not even in english.
Apart from eating and reconnecting with old friends, I've spent each day this week taking small steps to fully install myself here for the time being. Seemingly small tasks, like buying a cell phone, looking at an apartment, finding a carrying case for my kora, etc., can demand a full day.
My biggest feat, however, is playing music everyday, more often than not with others and more often than not more than once a day. The fulbright student staying at my old homestay in Mermoz asked me how I came to know so many artists here and wasn't it hard to learn the music? I tell him no, not at all. It's just very different. In the States, you can learn to play an instrument completely on your own. You could be a master violinist without anyone ever having heard you play. Just go out and buy the sheet music, maybe watch some youtube videos, and it's yours to be had. Here, that is impossible. It is impossible to learn without others. Sure, there is written music and most musicians do read music, but it's largely an unnecessary skill. Truly, music here is about communication and relationships. When those things improve, when you truly connect with musicians and build strong relationships with them, your playing improves and begins to truly connect with others.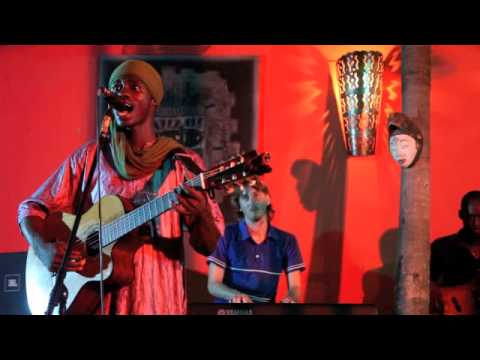 Sahad Sarr of Sahad & the Natal Patchwork 
I met guitarist and singer-songwriter Sahad Sarr on Tuesday. Tonight, I'll be playing with his group Sahad & the Natal Patchwork at a club called Just4U where they are opening up for Cheikh Lo. I only learned the songs yesterday so wish me luck!!
Much love,
Althea
Earlier: Departure to Senegal