Dear Internet,
Today, for the first time since 2008, I will be leaving New York City for an extended, indefinite period. My destination is a neighborhood of Dakar, Senegal called Sacre Coeur, where I will be sharing an apartment with a Senegalese professor and friend. I intend to call this corner of the world my home for at least 7 months, though I don't know quite yet how long my stay will be. I've witnessed an array of reactions to this news over the course of the past few months. Some happy or proud; others sad, worrisome or scared; but all were shocked. So, I thought I would take some time to explain my decision and precisely what it is I intend to do while away, in depth.
West African music has always struck a powerful chord with me. One of my favorite anecdotes comes from 1992, when, after my parents were strongly discouraged from bringing a two-year-old into Carnegie Hall, I sat silently for a three-hour African guitar concert performed by Francis Bebey, save the final note, during which I sang out a perfect fifth for all to hear. To my mother's surprise, the audience, most of whom had noticed my presence, simply responded with great applause.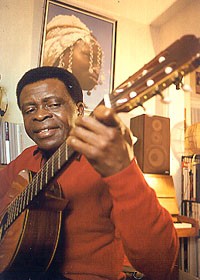 Francis Bebey
Many years later, my high school French teacher—the very Dakarois Monsieur Diaw—introduced me to the global circuits in which 'World Music' is produced and performed between and across countries, particularly in West Africa. Once I had discovered the likes of Youssou N'Dour, Kine Lam, and Thione Seck, I was seduced by Senegalese music. Although I had no intention of studying African music — or music at all, for that matter — it nevertheless found it's way to the focal point of my interests, both personally, professionally and academically, a few years later in college. After deciding to major in Ethnomusicology, I took an African History course, merely meaning to fulfill a coursework requirement. To my surprise, I found it fascinating and have remained transfixed with the stories and art of many regions of the continent ever since.
Exactly a year after taking that history course, I arrived in Dakar to study for a semester abroad. Though the decision to go had been very swift, I was deeply drawn to West Africa. Upon my arrival in Dakar, I immediately began to seek out the Kora: a 21-stringed harp-lute that evolved from the persian 'Ud and is very commonly found throughout West Africa. It's hard to explain why I was so adamant about finding someone who could teach me how to play this instrument, except to say that I felt that an elementary level of bi-musicality would be necessary for me to connect with Senegalese people in the ways I hoped.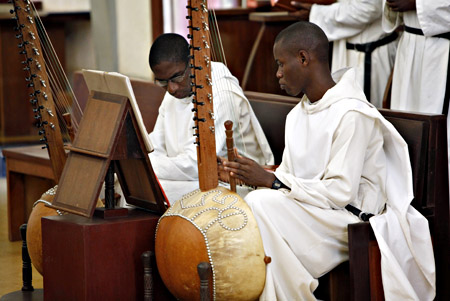 Monks at Keurr Moussa in Thies, Senegal, where my kora was built
The Senegalese people returned my (primarily linguistic and musical) investment ten fold. Many members of the musical community in Dakar showed me an affection and generosity like that of an older brother to a younger sister. Where, here in the states, my experiences with music had been largely informed by a rigid system dependent on a written score, a desperate industry, and a competitive spirit, Senegal was a place where creative ideas flowed freely and generously. All one needed was determination and openness to cohort with some of the countries top musicians and earn the trust, encouragement, gratitude and support of a community.
That isn't to say, however, that there aren't struggles for the Senegalese musical community. It became clear to me very early on in my studies that simply having the agency to study music is hard to come by for most Senegalese citizens. In most cases, it stipulates that one be a man, that his family be open to the idea and be able to afford to give them the education without much expectation of a return, among other things. Moreover, within this small community, opportunities can be very limited and rarely, if ever, culminate in the possibility of being able to go to a foreign country to study music, as I have done.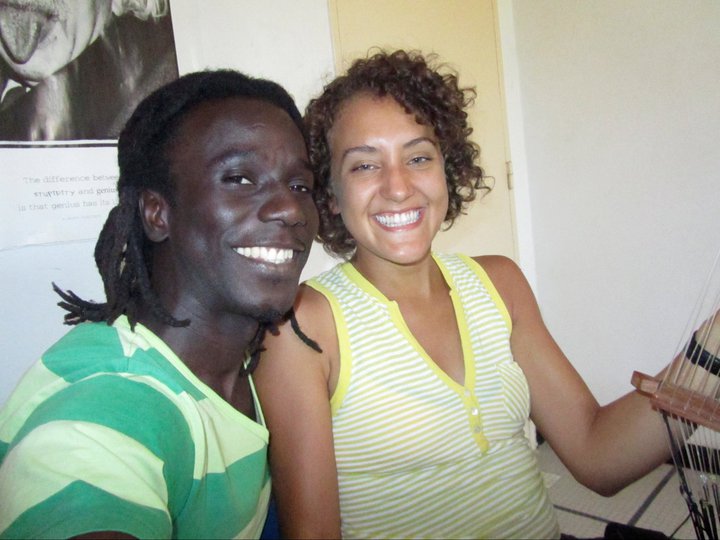 My kora teacher, Edou Manga, and I in Dakar in 2011
It is for this reason and many others that my sense of indebtedness to these people since my return has become more and more palpable. This feeling has fueled an effort to stay connected to the community and continue my studies of the wolof language and the Kora in the hopes of one day returning. These experiences led me to many unique opportunities, but none so special as being offered some payment to help the Musee de Thies in Senegal digitize and build upon their current recordings of traditional West African music.
For the past year, I've been preparing for this trip by working to save money and invest in the best equipment possible. My days will be spent recording, archiving, preserving, listening, playing, participating, speaking, learning and absorbing Senegalese language and music culture. My hope is that this work will help the growth of artistic grounding and opportunity for Senegalese musicians; to aide them in establishing a more defined identity in the world music sphere. Moreover, I hope that by recording the lessons of gewels (traditional musicians and storytellers bound by centuries-old rites), in particular, and making them publicly accessible, more Senegalese people will be able to afford to engage with their own music in the ways that I have.
It is with great sadness, however, that I must leave my family and friends, some of the best family and friends in the world, for this period. However, I intend to make every effort possible to stay connected. There will be lots of updates/photos/news/music/etc. that will be made available here, on my website. In addition, while away, I will continue working on my own music projects and releasing new episodes of my podcast (The Earfull) here at altheasullycole.com and on the iTunes music store. I implore anyone interested in my work and/or travels to stay in contact with me via email – I can be reached at alwasuco@gmail.com.
Much love,
Althea
p.s. : This is not goodbye!