This podcast, released on September 25th, comes just in time for Christopher Washburne's Birthday! In this episode, Washburne discusses trying to play trombone like Jimmy Page, meeting the Queen of Jordan, working with Tito Puente & Celia Cruz and surviving cancer.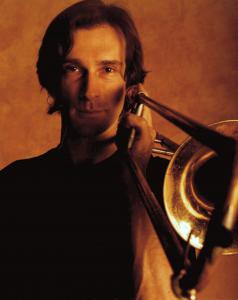 Chris Washburne is one of those rare musicians whose musical activities cross many styles and cultural borders. From early in his career he refused to be pigeon-holed as just being a jazz or classical player, but instead has continually pursued a diverse path. Chris is currently freelancing as a studio musician and performing trombone, bass trombone, tuba, didjeridu and percussion with various classical, jazz, rock and Latin groups in New York City. He also tours extensively with various groups and has concertized throughout the North America, Europe, Asian, Africa, South America, Central America and the Caribbean.
Chris received his Bachelors of Music in classical trombone performance from the University of Wisconsin where he studied with William Richardson, Richard Davis and Les Thimmeg. In 1988, he completed a Masters degree from the New England Conservatory in Third Stream Studies where he studied with John Swallow, Ran Blake and Bob Moses. He was the winner of the 1988 New England Conservatory Graduation Concerto Competition. He spent two months living in Zambia in 1985, studying the traditional music of that region, and in 1993, received a Mellon Fellowship to travel to and explore the rich musical traditions of Cuba.
In 1999 he completed his Ph.D. in Ethnomusicology at Columbia University. He is currently Associate Professor of Music and Found Director of the Louis Armstrong Jazz Performance Program at Columbia University in New York. He has published numerous articles on jazz, Latin jazz, and salsa. He is author of the book "Sounding Salsa: Performing Latin Music in New York" (2008) and editor of the book "Bad Music" (2004).
He has performed with the Duke Ellington Orchestra, Tito Puente, Eddie Palmieri, Justin Timberlake, Celia Cruz, Ruben Blades, Marc Anthony, Celine Dion, Anthony Braxton, Manhattan Chamber Orchestra, the Bang On A Can All-stars, David Byrne, Bjork, Muhal Richard Abrams, Gloria Estefan, They Might Be Giants, Chico O'Farrill, Don Richols, John Cale, Grady Tate, Baba Olatunje, Leslie Uggams, the Smithereens, Ray Barretto, Roscoe Mitchell, Jackie Byard, Danilo Caymmi, Arturo Sandoval, Paquito D'Rivera, Dinosaur Annex directed under Gunther Schuller, Walter Thompson, the SEM Ensemble, Freddie Cole, Lawrence "Butch" Morris, among many others.
He leads his own highly acclaimed groups SYOTOS and NYNDK and is a member of FFEAR (Forum for Electo-Acoustic Research).
For more on Chris Washburne visit www.chriswashburne.com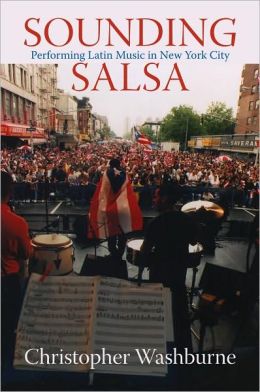 Book cover for Chris Washburne's "Sounding Salsa: Performing Latin Music in New York City"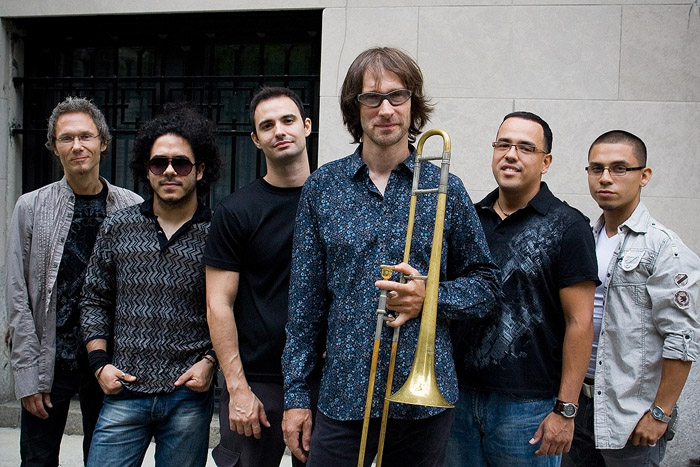 The SYOTOS Band (from left to right): Ole Mathison (tenor sax), Armando Gola (bass), Ludwig Afonso (drums), Chris Washburne (trombone), Cristian Rivera (congas), and John Walsh (trumpet)
Recordings featured in this podcast (in order of appearance):
"Methane Mambo" performed by the SYOTOS Band live in Washington DC, August 8th, 2010. Composed by John Walsh.
"Moonglow" performed by the Benny Goodman quartet (with Teddy Wilson, Gene Krupa and Lionel Hampton)
Max Roach Drum Solo from "Session"
"Para Los Rumberos" performed live by Tito Puente's Orchestra
"Mr. Sandman" by The Chordettes (1954)
"Uncontrollable Urge" by Devo from Q: Are We Not Men? A: We Are Devo! (1978)
Various Live Jimmy Page Solos
"My Life in the Bush of Ghosts" by Brian Eno and David Byrne (1981)
"'Round Midnight" performed by Howard Johnson & Gravity (1996)
"Sound 1" by Roscoe Mitchell Sextet (1966)
"La Danza de La Chiva" performed by Tito Puente and Celia Cruz (1969)
"Paginas de Mujer" by Eddie Palmieri from the White Album (1981)
"All the Things You Are" performed live by Dizzy Gillespie, Slide Hampton, Johnny Griffin, Hank Jones, Ed Gomez, Ed Thipgen (1987)
"El Tema Del Apollo" performed live by the SYOTOS Band live in Washington DC, August 8th, 2010. Composed by Eddie Palmieri.
This episode of the Earfull Podcast was originally recorded on July 11th and released on September 25th, 2013, which is also Chris Washburne's Birthday!!! The cover art for the Earfull was made by Hallie Bean. I'd like to thank Chris Washburne for sitting down with me and you for listening. For more information on Chris Washburne, you can visit his website at www.chriswashburne.com. You can find the Earfull on the iTunes music store, soundcloud, and Facebook.